Shuhei Aoyama - 2006 Rider Profile
---
2006 Rider Profiles
---
Career highlights and biography;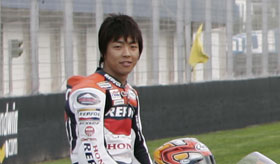 Date of birth: 5 December 1984
Place of birth: Chiba
Age: 21
First race: Pocketbike race at the age of three
First Grand Prix: 2002. 125cc Japanese GP, Suzuka
Career highlights;
2001: 8th 125cc All Japan Championship
2002: 4th 125cc All Japan Championship
6th 125cc Japanese Grand Prix, Suzuka
25th 125cc Dutch Grand Prix, Assen
10th 125cc British Grand Prix, Donington
11th 125cc Pacific Grand Prix, Motegi
2003: 1st 125cc All Japan Championship
21st 125cc Pacific Grand Prix, Motegi
2004: 2nd 250cc All Japan Championship
8th 250cc Japanese Grand Prix, Motegi
2005: 1st 250cc All Japan Championship
Biography;
It takes a special ability to stand out among a horde of other riders when Honda is deciding who should be awarded the Honda Racing Scholarship. Receiving the invitation to race for Honda is almost as much of an achievement as winning an intensely competitive domestic series.
To win six out of seven races in the ultra-demanding environment of the All Japan Road Racing Series 250cc championship is a standout achievement - which is precisely what 21-year-old Shuhei Aoyama managed in his second season on a quarter-litre bike.
Now he looks forward to a season travelling the globe engaging in the premier two-stroke class as team-mate to experienced campaigner Sebastian Porto in the Repsol Honda 250 Team, under the watchful eye of kingmaker Alberto Puig.
But Shuhei is by no means a total Grand Prix novice. He rode in the Japanese GP (Suzuka, 6th), Dutch GP (Assen, 25th), British GP (Donington, 10th) and the Pacific GP (Motegi, 11th) in 2002 as a 17-year-old in the 125cc. After his World Championship experience Shuhei returned to Japan to secure fourth overall in the All Japan 125 series.
He'd already finished eighth in 2001 after cutting his teeth in the hardcore pocket-bike arena, which he began aged three, like many of the best of recent Japanese riders. It's hardly a coincidence that the two previous winners of the Honda Racing Scholarship, his brother Hiroshi Aoyama and Yuki Takahashi were also pocket-bike titans.
Shuhei achieved his aim of becoming All Japan 125cc champion in 2003 at the third attempt and then set his sights on the 250cc class. As the competition got stiffer so he raised his game accordingly and he ended 2004 second overall in the series, as rookie of the year. He also finished eighth in the Japanese 250cc Grand Prix at Motegi.
Last year he continued his inexorable rise to the very top of the Japanese ladder with his extraordinary domination of the 2005 championship, although he failed to finish the Japanese Grand Prix after crashing on lap three. He had, however, qualified on the front row as third fastest rider.
This new generation of Japanese riders emerging from the domestic series is consistently competitive. And, as many of those riders engage in occasional Grand Prix competition as early as possible while also contesting home events, the step-up to a World Championship level becomes less of an unknown and more of a career requirement. Although most tracks will be unfamiliar to those who make the grade in year one - the level of competition is a known factor.
Perhaps the most deserving candidate yet of the Honda Racing Scholarship is under no illusions about the task he faces in 2006, but if anyone is equipped to make his mark in 250cc Grand Prix in his rookie year, it's Shuhei Aoyama.
Technical details of Shuhei Aoyama"s Honda RS250RW;
Overall length: 1,960 mm.
Overall width: 640 mm.
Overall height: 1,090 mm.
Wheelbase: 1,350 mm.
Road clearance: 110 mm.
Weight: Over 100 Kg.
Engine type: liquid-cooled two-stroke crankcase reed valve V-2
Displacement: 250 cc.
Maximum power: Over 90 PS
Frame type: Twin-tube in aluminium

Wheels;
Front: 17"
Rear: 17"
Suspension;
Front: Telescopic fork
Rear: Pro-link
Fuel tank capacity: 21 l.