Laconi Profile
Team facts;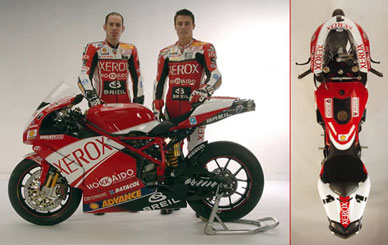 Ducati Corse riders have won the title 7 times out of the last 11 seasons
The team are fully backed by the Ducati factory, providing significant innovation & technology investment
Based in Bologna, Italy
In 2004 the team achieved - 6 pole positions, 10 victories, 12 second places and 6 third places (from 11 events, 22 races)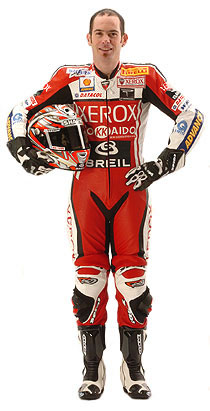 Nationality: French Born, July 8, 1975 - St. Dizier (France)
Marital Status: Single
Height: 1.67 m
Weight: 74 kg
Hobbies: Cycling
After finishing runner-up to his team-mate James Toseland in the 2004 World Superbike Championship, the highly-experienced Regis Laconi is the most popular rider in France today and certainly the most successful currently racing in the top motorcycle racing categories. In remaining with the factory Ducati Superbike team, now in the colours of new sponsor Xerox, the 29 year-old from St. Dizier aims to improve on his 2004 result by becoming the first French rider to win the WSBK championship since the legendary Raymond Roche, who won the title in 1990.
Laconi's early career saw him make his debut in the French 125cc championship in 1991 at the age of 16, a title he then won the following year. 1992 also saw him make his World Championship debut in the same category in his home GP at Le Mans.
Moving up to the quarter-litre category, he then added two more titles to his tally by winning the French championship and the European championship in 1994. The next two years saw Regis finish 27th and 15th in the World 250cc Championship, while his 500cc debut season in 1997 was cut short with a crash in Austria. Laconi then finished tenth in 1998, eleventh in 1999 and twelfth in 2000, but 1999 saw him take his first pole position, podium and victory in the Valencia race for Yamaha.
Regis switched to the World Superbike Championship with Aprilia in 2001 after losing his Yamaha ride and triumphed in his debut season at Imola, becoming one of a select group of riders to win in both MotoGP and WSBK. The following year he moved back to MotoGP with Aprilia to ride the all-new RS Cube, but was replaced at the end of year.
In 2003 he returned to WSBK, riding for the Caracchi NCR team, and his strong performances on a Ducati 998RS (five podiums, three second places, two fastest laps) earned him a full-factory ride for 2004 with the Ducati Fila team. Despite consistently being the quickest rider in the field with five pole positions, six fastest laps and seven wins to his name, Laconi was just edged out for the title by Toseland in front of his home crowd in the Magny-Cours finale.
2004 World Superbike runner-up (327 points, 7 race victories, 14 podiums)
29 years old
4th season in Superbikes
2nd season with Ducati Corse