Fausto Gresini - 2005 Rider Profile
2004 Rider Profiles | 2005 Rider Profiles
---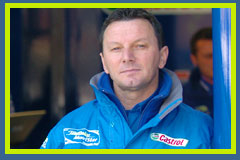 As a rider he has won two World Titles and 21 Grand Prix in the 125 cc class, as a Team Manager he can boast more success including a World title and 26 victories for a total of 68 podiums. The career of Fausto Gresini is one highlighted by both sporting and professional success.
The rider;
As many do, Fausto began racing quite young when at 17 years of age, he begins to work in a mechanics workshop. He debuts on the race tracks with a Minarelli 50 in 1978, and in 1983 he enters the World championship with a Garelli. To begin with bike racing was just for fun, a passion, but then, with his professional growth, his goals started to change and he achieved his first results.
During his riding career, Fausto Gresini won two World Championship titles in the 125cc class in 1985 and 1987. For three years he was Vice world champion of 125's: in 1986 with Garelli and in 1991 and 1992 with Honda. He has obtained 21 victories and raced in 132 Grand Prix with 15 second places and 11 third places. He detains, together with Nieto, the record of 11 straight victories in the 125 class, obtained in 1986 and 1987. His is the record of the most victories in one season in 125: 10, in 1987.
The Team Manager;
After ten years of riding in the 125 class, Fausto Gresini decides to retire as a rider from professional racing but to pursue his passion and work as a Team Manager.
In 1997 he debuts with his own team together with Fabrizio Cecchini, manager of the entire technical department and already engineer to Alex Barros with the Pileri Team. They enter the 500 cc World Championship with Alex Barros on a Honda NSR V standard two-cylinder. Alex's podium, together with the team's ninth place in the Championship gives credit to the Team directed by Fausto Gresini through Honda, who the next year entrusts him with a NSR 500.
From this moment his career is a crescendo of hard work, results and satisfaction. In just a few years his team becomes one of the most affirmed top teams of the World championship with prestigious sporting results as the World championship title with Daijiro Kato in the 250cc class and two Vice World Championship titles in MotoGP with Sete Gibernau. Off the track Gresini is able to maintain the trust of the leading Motorcycle manufacturer in the world, Honda, by strengthening an already affirmed partnership.
The base of all his hard work is his passion for bikes. This is what brings him to pass long nights in the office aiming for perfection with close attention to even the tiniest detail.
To gain and maintain the trust of the winged manufacturer passion is not enough; you need to have a winning, professional and scrupulous work system in harmony with Honda.
"We are precise in everything, Italian with our mentality a bit Japanese in our work system" comments Fausto Gresini, "but above all there is the love for this job, for racing, for the people who work with me."
A characteristic that Fausto has passed on to all those who work on his team as they are always striving for something new, something better, more functional: the trucks, the tools, the furnishings of the garages and hospitality areas.
The man;
Even though he is a successful racer and business man, Fausto Gresini is still a simple, genuine, coherent and correct man who lives of passion and dedicates all his free time to his wife Nadia, and two sons Luca and Lorenzo. He loves hunting and fishing, good Italian food and being in great company.
"During my brief career I would have never thought to achieve this type of success at these levels. It's a chain that pulls you to look forward, to better yourself both on and off the track. In the end though, I feel as if I am just the same guy. It's the values you believe in that help you grow and make you respected".
Profile:
Born: 23/01/61, Imola, Italia
Nationality: italian
Residence: Italy
Fausto Gresini's rider records;
1979 - He makes his professional debut as a rider
1983 - He makes his debut in the 125cc World Championship on a 125 MBA, ending up in the ninth overall position. He takes part in the Italian Championship on a 125 Garelli and finishes second.
1984 - On a Garelli he wins his first GP at Anderstop in Sweden. He ends up third in the 125 cc Championship. He takes part in 50 cc and 125cc Italian Championship on a Garelli and finishes second and third respectively with two victories.
1985 - He is the World champion on a Garelli in the 125 cc Class. He wins three Gp's (Australia, Belgium and San Marino and begins five times from pole position. He is again second in the Italian championship.
1986 - He wins four GP's (Spain, Italy, Sweden, Germany) and finishes second in the championship after his team mate Luca Cadalora (Garelli 125). He comes in 4th in the Italian Championship.
1987 - He is the absolute winner of the season with the 125 Garelli: he wins ten races in a row as well as the World title for the second time. He obtains two victories in the Italian Championship
1988 - The new Garelli 125 bike is not what he expected and after a very disappointing season he ends up 21st over all.
1989 - He moves to Aprilia 125 and ends up fifth overall.
1990 - His first contact with Honda and finishes 7th in the 125 championship.
1991 - He wins 2 GP's with Honda 125 and ends up second behind Capirossi.
1992 - He wins at Donnington on a Honda 125 and is reconfirmed Vice world Champion.
1993 - He arrives 13th overall with Honda.
1994 - He finishes 16th with Honda 125 and decides to retire from racing.
Fausto Gresini's Team Manager records
1996 - From rider to Team Manager, in December 1996 he starts Gresini Racing
1997 - He makes his debut as Team manager with Alex Barros on a two-cylinder Honda NSR V in the 500cc championship and ends the season in 9th place overall.
1998 - Same rider but a different bike, Barros concludes 5th on a Honda NSR 500.
1999 - The bike is a Honda NSR250 and the rider is Loris Capiprossi. With three victories and six podiums he is 3rd in the Championship (Team Elf Axo Honda)
2000 - Honda entrusts him with the new NSR 250 and the young Daijiro Kato. With 4 victories and 5 podiums, Kato comes in 3rd overall (Team Axo Honda Gresini, riders Kato and Alzamora/NSR 250 and Philippe/TSR 250)
2001 - Daijiro Kato is World Champion in 250 with 11 victories out of 16 races. His team mate Emilio Alzamora finishes 7th (Team Telefonica Movistar Honda with Kato/Alzamora NSR 250)
2002 - With Honda RC211V Daijiro Kato concludes his Championship earning the "Rookie of the year award". In 250 Rolfo earns a 3rd place and Alzamora 7th. (Team Fortuna Honda with Kato NSR/500 and Rolfo and Alzamora/ NSR 250)
2003 - The season begins with the tragic accident of Kato Daijiro in Suzuka. His team mate, Sete Gibernau dedicates to him 4 victories. With ten podiums Sete earns the title of Vice World Champion (Team Telefonica MoviStar Honda on a RC211V)
2004 - The Team Telefonica MoviStar Honda lines up Sete Gibernau and Colin Edwards on the RC211V for the 2004 season. Gibernau re-conquers the title of Vice World Champion of MotoGP. The Texan, twice World champion of SBK, finishes 5th.
2005 - The Team Movistar Honda lines up Sete Gibernau and Marco Melandri, ex 250 World Champion, on Honda's RC211V