Bradley Smith
---
2006 Rider Profiles
---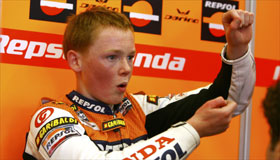 Career highlights and biography;
Date of birth: 28 November 1990
Place of birth: Garsington (Oxford), England
First race: Motocross -January 1997, Road Racing - October 2003 in Lydden
Career highlights;
1997: 1st Bedfont Lakes Summer and Winter Club Championship. 1st Cotswold Winter Championship
1998: 1st Cotswold Summer Championship. 1st Vale of White Horse Winter Championship. 4th All British Championship.
1999: 15th All British Junior 65 Championship
2000: 4th BSMA National Series. 6th UK Supercross Series
2001: 1st UK Supercross Series. 2nd KMNV Dutch Championship
2002: 3rd Sheffield Supercross
2003: 1st Future West Supercross. Wins in rounds of both BSMA National and KWS Series.
2004: 4th MRO Superteen Championship. 7th MRO GP 125cc Champonship
2005: 2nd CEV 125cc. 10th British 125cc Championship
Biography;
He is only 15 years old, but this young Briton has been racing sine he was 9, i.e. more than half his life. In 1997 he began taking part in motocross and supercross races, winning the British Championship in 2001. In 2004 he tried for the first time a road racing championship and finished fourth in the MRO Superteen Championship including a first victory in Lydden and seventh in the MRO GP 125cc Championship after only competing in three rounds.
Bradley took part in the CEV Spanish Road Racing Championship, in the 125cc class in 2005, on a Honda of the MotoGP Academy Team. The young British rider finished second overall, one point behind the Champion, after winning the final three rounds of the Championship in Albacete, Valencia and Jerez. He was tenth overall in the British 125cc Championship the same year, despite missing many rounds due to MotoGP Academy commitments.
These results have awarded him with a place in the Repsol Honda Team 125cc under the guidance of Alberto Puig, to contest the 2006 125cc World Championship.
Technical details of Bradley Smith īs Honda RS125RW;
Overall length: 1,800 mm.
Overall width: 570 mm.
Overall height: 995 mm.
Wheelbase: 1,215 mm.
Road clearance: 110 mm.
Weight: Over 136 Kg. (machine + rider)
Engine type: Liquid-cooled two-stroke crankcase reed valve
Displacement: 125 cc.
Maximum power: Over 48 PS
Frame type: Twin-tube in aluminium
Wheels;
Front: 17"
Rear: 17"
Suspension;
Front: Telescopic fork
Rear: Pro-link
Fuel tank capacity: 14 l.
---