Welcome to our competitions page
Subscribe to this RSS feed
It's free to enter our exciting prize draws, brought to you by your favourite motorcycle website. You will also be eligible to receive our free newsletter detailing forthcoming events and breaking industry news.
echo date("F" ); ?>'s Competitions.
Please check back soon as new competitions are added on a regular basis. Here are just a few of the fantastic selection of motorcycling free prize draws we have to offer. Just click an image for more information
Ducati Bevel Twins – The Essential Buyer's Guide
Having this book in your pocket is just like having a real marque expert at your side. Benefit from Ian Falloon's years of ownership experience, learn how to spot a bad bike quickly and how to assess a promising bike like a professional. Get the right bike at the right price!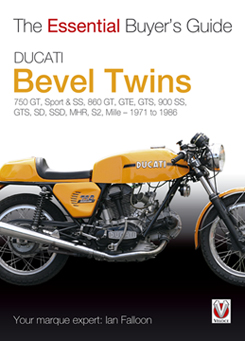 Packed with good advice on choosing the right Ducati bevel twin, with a comprehensive inspection guide and in-depth analysis of strengths and weaknesses, this book covers desirable upgrades, modifications to avoid, valuation, and predicting which models will become collectable
Competition ends on 29th November 2012
This competition has been brought to you courtesey of www.veloce.co.uk
Competition Entry Form
---


Terms and Conditions
Previous winners