1975-1977 1760cc Norton Drag Racer 'Hogslayer'

Tom TC Christenson and his awsome Norton-powered ruled America's quater-mile drag strips in the mid-seventies. After successes with a fuel-injected 750cc Norton-powered dragster, the racer from Kenosha, Wisconsin rolled out his first double-engined monster in 1970. TC called it Hogslayer to taunt his Harley Davidson rivals and began to notch drmatic results.
In 1972 the snorting Norton won two nationmal showdowns in New Jersey and California, humbling established HD and Triumph aces and setting a new standing start quarter-mile record at 8.52 seconds.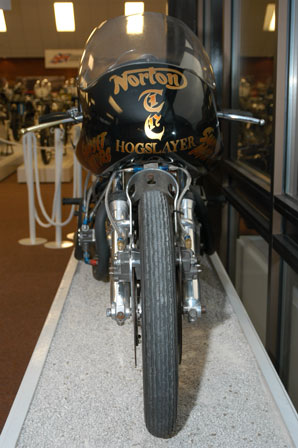 Christenson went on to win every major drag race in America, flying the Norton flag in front of huge crowds and on TV. Hogslayer also made guest appearances in Britain, running Europe's first sub-9 seconds quarter-mile at Silverstone in 1974.
In 1975, TC blasted to four sub-eight second runs in a row at California's Ontario Raceway, being narrowly beaten into the 'sevens' by a 3.2 iltre rival with three Japanese four-cylinder engines.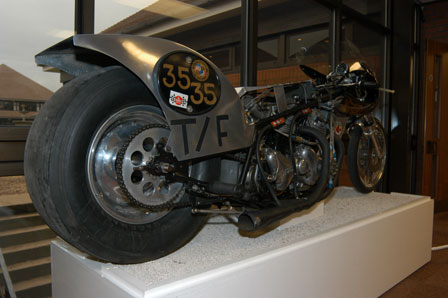 Technical input on Hogslayer, including transmission design and frame building, was mostly by John Gregory. He owned Sunset Motors, a Norton agency in Kenosha, before selling the business to Christenson.
The machine was continually developed with the latest innovations in drag racing and ever-wider rear tyres to make use of an astonishing 300 + horsepower. The paired Norton Commando engines relied on many standard parts but were adapted to run on nitro methane fuel.



Starting out at 750cc each, they were expanded to 880cc by a Sunset Motors conversion and magneto ignition gave way to a modern electronic system. One factor in Hogslayer's success was engine reliability, which saw TC survive elimination rounds to reach the final when rivals were sidelined by mechanical failure.
Engine - Two 880cc air-cooled overhead valve parallel twins, four 1 5/8in Hilborn fuel injectors, electronic ignition
Transmission - Chain primary drive, hydraulic slider clutch, two-speed semi-automatic gearbox, chain final drive
Chassis - Tubular double cradle frame, telescopic fork front suspension, disc brakes
Wheels - 18in front, 10.5in Cragar rear
Power - 320 bhp @ 7500 rpm
Weight - 475 lb (204 kg)
Top Speed - 180 mph