1960 Potts-McIntyre Norton - Flying Scotsman's Special

Joe Potts ran a car sales, taxi and funeral business in Belshill, Glasgow. He sponsored motorcycle sport as a hobby and his best-known protege was fellow Scot Bob McIntyre.
McIntyre famously won the 1957 Senior TT on a Gilera four, setting the first 100 mph laps of the Mountain course. In the following year he returned to the Potts stable to develope and race its single-cylinder racers.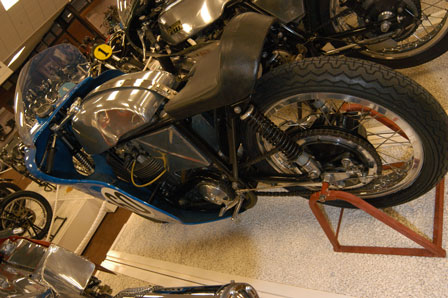 McIntyre prepared his machines at the Belshill workshops, helped by mechanic Pim Fleming and the company's welding wizard Alec Crummie. Among hardware that emerged were 350cc and 500cc specials wheeled out for 1960. They were identical except that the bigger version has a Manx Norton engine and the three-fifty an AJS 7R unit. McIntyre usually raced in both classes and disliked switching between frames with different characteristics.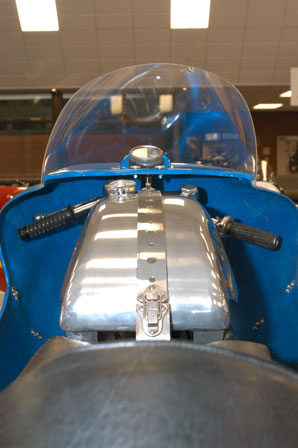 Although based on Norton's Featherbed, the special frame differed from in several respects. The main tubes were no longer full loops. Instead, the top rails ran back to the top rear suspension mounts, while the cradle tubes rose vertically to join the top rails at right angles.
The oil tank is on the left of the frame and has a large heat-dispersing side surface. Free space surrounds the Amal GP carburettor's intake, to where cool are is directed from an intake in the fairing.
On the Norton special's English debut at the 1960 Silverstone Hutchinson 100, McIntyre won the 500cc race from Mike Hailwood. The Scots rider rode for Honda from 1961 but continued to race Potts' singles and created an all-new chassis for his AJS. A fatal crash at Oulton Park in August 1962 prematurely ended Bob Mac's brilliant career.
Engine - 499cc (86 x 85.62mm) air-cooled double overhead camshaft single, 11:1 compression ratio, Amal 1 1/2in carburettor, magneto ignition
Transmission - Chain primary drive, dry multiplate clutch, four-speed gearbox, chain final drive
Chassis - Tubular double cradle frame, telescopic fork front suspension, swinging arm rear suspension, drum brakes
Wheels - 19in
Power - 50bhp @ 7200 rpm
Top Speed - 130 mph, depending on gearing