1922 NER-A-CAR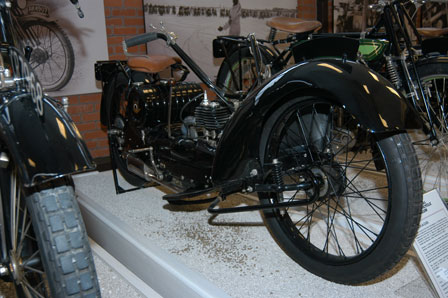 The name is a pun on the name of the designed, C A Neracher and the motorcycle is constructed in automobile fashion to be as near a car as a two wheeler can be. Of American origin it made its European debut on Douglas promenade during 1921 TT week and created great interest. It was licenced for production in England by Sheffield Simplex Ltd and later models were fitted with a 350cc Blackburne OHV engine.

Features of interest include the pressed steel chassis, the unusual steering, variable speed friction drive and countershaft brake.
The partial enclosure and the general cleanliness and silence enabled it to sell in fair numbers to ladies and towards this end, in November 1921, a Mrs G M Janson completed a 1000 mile ACU observed test without stopping the engine. Despite normal November weather the cleanliness of both machine and rider were particularly notes.
Mrs Janson's brother went on to achieve renown as Lt Gen Sir John Glubb - 'Glubb Pasha', commander of Jordan's Arab Legion.
Engine - Sheffield Simplex 2 1/4 hp two stroke. 62 x 70 mm, 211cc.
Price - £69.6.0, inclusive of electric lighting
Production - 1921-1926