SUNDAY 8th JULY 2007
Friday 29th June | Sunday 1st July | Tuesday 3rd July | Thursday 5th July | Sunday 8th July | Tuesday 10th July | Friday 13th July | Sunday 15th July
In the morning, we packed the tents away and got the bikes ready for the next dash. The bikes were being admired by a young Spanish couple in their 30's. He was stripped to the waist and had the requisite Massey Ferguson tattoo that Harley owners the world over seem to have to wear along with the goatee and shaved head. He explained that he had a Hog but that he had come on holiday in his car, for some reason that never became clear. I explained with many hand signals and scattered Spanish that in the UK, Harley owners never wave; that they are inclined to be very elitist. He couldn't get over this and, to be fair, was a nice chap. He then disappeared and, as if to make amends for his brethren, gave us a Harley Davidson bag which Bill now has. We thanked him and gave him that funny handshake thing that Harley owners seem to like. He was made up. He explained that he and his wife were coming to the Aces Café in 2009. I wonder if he meant the one in London or the Headquarters of the Lonely Bob Fan Club Worle?

We were waved off and, after another wrong turning or two, were soon on the way to Gibraltar via the coast road. After a few miles, we pulled over and Henry began a pre-agreed oil change routine. We agreed that bill's bike could do without as the oil was being replenished often enough to make it not worth changing it. All went well and we cleaned up and continued on towards Gibraltar.

We hadn't gone much further when Henry decided that the call of the surf was too great and we turned off to have a paddle in the Atlantic. If Leslie is reading this, only Bill and I looked at the girl with the dental floss bikini bottoms. If Naomi's reading this it was Henry and me. If Frances is reading this, she knows it was me. Bill and I had a paddle whilst Henry went the whole hog and did his Baywatch impression. I still can't see the resemblance to Pamela Anderson? We dried off and carried on along the coast.


As we approached Tarifa, we noticed, through the haze, the peak of the Atlas Mountains in Morocco. We could now claim that our bikes had seen Africa! The views were awesome as we climbed the mountain on the Spanish foothold of Hercules right foot and looked out towards another continent.
We stopped for tea and some photos and then it was on, past Algeceiras and around the bay to Gibraltar. The road seemed to go on for ages and ages. The Spanish being true to form, there wasn't a single signpost for Gibraltar.

I never ceases to amaze me when an entire nation decides to act in such a childish manner. I know that they would like Gibraltar back, but acting like a two year old isn't going to make it happen, is it? But, more of that later!

We were soon greeted with stupendous views of The Rock. I'm surprised that the Spanish Authorities didn't have them air-brushed out or the view blocked from the road with advertising hoardings.



We had no problems at the border. We were waved straight through and we were in. We rode down to the southernmost headland, Europa Point, where there is now an enormous Mosque. We parked up the bikes and took some photos. It must have been that time of day as the P.A. on the minaret sparked up with the wailing sound extolling the greatness of their prophet. I remember thinking you'll have to shout louder than that old chum. They'll never hear you in Morocco with just 30-watt horn speakers.

We wound our way back into the town and found a pub where they were serving Sunday lunch! Sorted. It's a shame that we had to make it such a whistle-stop visit. It would have been nice to visit the Rock and see the apes. Still, we had Bill.

We started to make our way back into Spain and cleared the Gibraltar customs with no problem. When we entered the Spanish customs area however, it was a different matter. We were all waved over to one side and fingers were pointed to every bag and case that we had. open..open, open.

We all knew that the only thing to do was comply and this is what we did. Resistance is futile. We set about pissing them off as much as we could with compliance and looks of innocence. Before long they got bored and started to pick on another Brit. This one was in a camper, much more fun. We were waved off and Henry and I started our bikes.

That's when it happened..

Bill's bike would not start. Electric boot or kick start brought the same response. Nothing. We started to investigate and after 5 minutes were getting nowhere. That's when the border guard showed his caring side. With a wave of his hand he ushered us out of the shade of the covered customs inspection area and out into the blazing 33 degree afternoon sun. Arsehole. A sentiment backed up by the fact that they didn't stop a single vehicle with Spanish plates all the time we were there.

We toiled on for 10 minutes and then spotted some shade alongside the customs office. We moved the bikes there and Henry soon had it down to a blocked jet in the carb.

What's do you think the problem is, Henry? asked Bill.
Henry, without looking up barked Crap in the carburetor Bill
Do you really think that's going to help? enquired Bill

The jet was soon cleared and the carburetor reattached. The bike started second or third prod.
Bill looked up and muttered Bloody Dago petrol!

Henry and I were in tears!

We soon got underway again in the direction of Ronda. Another site from the Price Parts Camping Almanac. We went part way by motorway and then cut overland to take in the scenic route. We ended up going round in a huge arc but I wouldn't have missed the views for anything. We stopped in a pic-nic area for tiffin. Bill just wanted some shade.


We made it to the site at around 5 p.m. and booked in with the proprietor. He ruminated for a long time with regards to which pitch we could have. He finally decided on pitch number 77. We raided some provisions from his meagre store and made our way to pitch 77. We were surprised to see that we could have had any of the pitches from 20 to 99. They were all empty! Strange man. Saying that, he did raid the restaurant kitchen for me and come up with some garlic.
After some supper of chicken and pasta, Henry and I made our way to the bar for a beer and found that they had internet access. We logged on and left a few comments on the Lonely Bob's Fan Club site and looked at some of the pictures that I had sent back to Frances she had managed to post.

We noticed that the bar was starting to clear down so we made our way back to the tents and turned in.

STATSISTICS - DAY 10:
250 miles Conil De la Frontera Ronda
2,031 miles in total
Average 203 miles per day
MONDAY 9th AUGUST 2007
Up and away, nice and early. Making our way to a place called Valdepeňas. More views to die for. Fields and fields of olive trees. All planted out like soldiers. Little villages of white-washed houses nailed to the sides of steep hills looking as if the're grou7ped together for safety.



We stopped in a town, along the way, to find some lunch. It was a busy town and the streets were cobbled, as usual. We stopped in traffic and all of a sudden, there was a rumpus behind me. I looked in my mirrors and poor Bill was on his side again! I blew my horn to stop Henry and got off to help Bill. A crowd had gathered and Bill, who was a little stunned and was in the arms of a beautiful young woman. No wonder he was stunned! Several people were collecting the various tins of food that had spilled from his luggage and were discussing what "corned beef" was. We got his bike upright and parked up and let Bill get up in his own time.

I thought that about 45 minutes would suit him but he was back on his feet in no time at all. No permanent damage done although, he had bruised his ribs a little. We dusted him off and decided to get ourselves a coffee and a sandwich.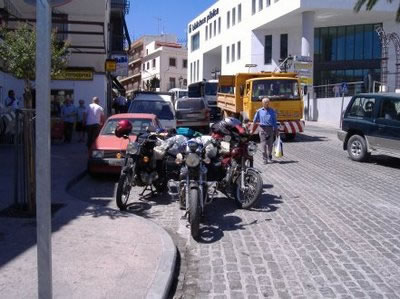 We finished lunch and soon got back on track. We were making good progress up the motorway, with me riding at the back, when a car passed me and the amount of gesticulating and pointing told me that the old luggage problem was back! We were just entering a long tunnel so there was nothing to do but carry on. The other side of the tunnel, I went to the front and then pulled over onto the hard shoulder. We examined the problem and lashed it up enough to get off at the next junction.

We found some shade and decided that radical surgery was the only way out of this mess. The rear seat was removed. The top box was removed from the rack and bolted to the brackets for the rear seat. The broken rack was mended with 3 metres of washing line and 24 cable ties. The panniers that had come adrift were reattached to the rack. The rear light and indicator assembly was cable tied to the bottom of the rack. Job done! You know you're getting old when the Pit Crew begin to look so old.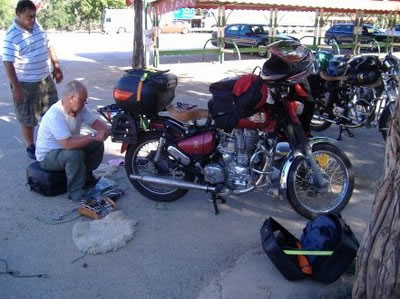 We had a site looked out from the book but, try as we may, we couldn't find it. It was supposed to be right on top of one of the junctions on the Motorway adjacent to a large Angel of the North type statue. We had all the right landmarks but just couldn't find the site. Then, all of a sudden, there it was. Behind locked gates. Bearing in mind that all we needed was a flat piece of grass / ground, it did cross my mind to see if we could find another way in but we decided to see if we could find an alternative instead.

Back into the town, down a lovely avenue which was lined with giant amphora, the large terra cotta vessels that they use to store wine and olive oil, although not at the same time. These were huge, some 3 metres tall. It was whilst admiring these that I failed to spot the speed bump.

Twang!

That's when it happened... again..

My luggage problem had reappeared. I had just about had enough. I was all for calling the A.A. and calling it quits! Henry prevailed, yet again and more cable ties and string soon had me back on the road again. We decided to head back to the motorway and look out one of the many wagon drivers lodge type hotels for the night. We were so tired that we plumped for the first one we came across. We ended up with two twin rooms. Bill and I shared and Henry went in the other.

We ate in the attached restaurant / bar. Another mistake! Pollo & Patata Frito. Chicken and chips, right?

Wrong.

Recipe:
Take two or three scabby chicken portions out of the cat's bowl. Attack them with a meat cleaver snapping them into bite sized pieces leaving shards of bone that can pierce gums. Add large one cup of very roughly chopped garlic. Add to this two or three very small new potatoes chopped to the size of rice grains. Fry the lot in some stale olive oil. Slop-up onto three plates. Go home for the night.
On the good side, the beer was cold and the bread wasn't stale.

STATSISTICS - DAY 11:
264 miles Ronda - Valdepenas
2295 miles in total
Average 209 miles per day