Frame Modification - Starting to look like a chopper now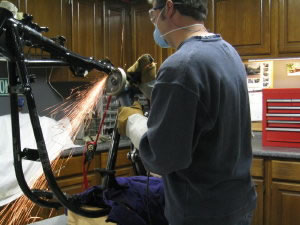 Frame Cut: Cut the backbone close to the seat mount. We are taking the stock "dip" out of the backbone and replacing it with a clean straight tube.
The upper tubes are then marked and cut. We leave a little extra tubing just before the curve. This will allow us to set the proper angle after the backbone length is finalized.
Frame Cut: After the stock neck is disconnected, all the old stock tubing from the cast iron neck is removed. This is were the new tubing will be installed/inserted.
The remaining frame connection points are then cleaned and prepared for welding.
Backbone Fabrication: Based on the computer drawing, the new backbone tube was cut for a total backbone length of 27". The new 7 degree triple tree was assembled and attached to frame neck and the fuel tank set on the backbone.
The final backbone length was marked and cut Holes were drilled through the seat mount and backbone for a spot welds to hold the inner tubing in place.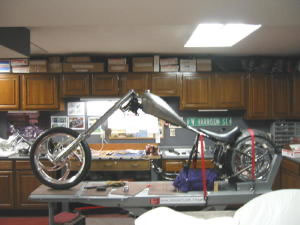 Setting the final Rake: The new 10" over fork tubes are attached to the triple tree with the front wheel installed. This is how the final rake will be determined. Before the final weld is applied, the front tire will be deflated to simulate the weight of the engine installed.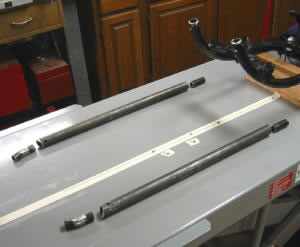 Down Tube Fabrication: With the front forks attached, the down tube length and angles can now be finalized. Small inner tubing is also cut, the upper connection inner tubing will have a small bend.
Frame Assembly/Alignment: The new downtubes and inners are installed. Small holes are drilled through the outside for spot welds to connect the inner tubing. The backbone alignment is set to the original position using a plum-bob. Spot and stitch welds are used to hold the alignment in place.
Frame Assembly/Welding: With frame locked down and aligned, stitch and spot welds are added. During each weld, the plum-bob for the backbone center line is checked. After the backbone is locked in, the plum-bob is moved to the neck and the more welds are applied. Additional checks are performed to insure the neck is true. After the frame is stitched welded together, the final plum-bob position is dead center.
Frame Assembly/Testing: After the stitch welds were inplace, the rolling chassis was pushed up the hill and ridden down. The frame road straight and felt pretty good. Only getting to about 20 mile/hour, it was hard to tell if the 3.5in of trail is enough. If it is not, the 7* degree tree will be replaced with a 5* one.
Completion of Frame Modification Phase: The frame modification phase is now completed. After the test ride, the frame welds were finalized. The end result is 4in stretch in the backbone, 7in in the downtubes and 40* degrees in the rake.
The pictures are article on this page were kindly provided by www.jhchoppers.com
If you have written an article and would like it to be published, please contact us; webmaster@motorbike-search-engine.co.uk