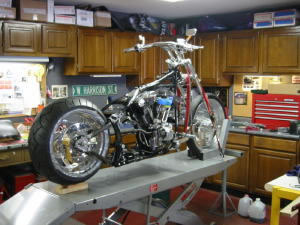 Remove the wire-harness, ignition coil, voltage regulator, blinker computer, and wire-harness mounting hardware.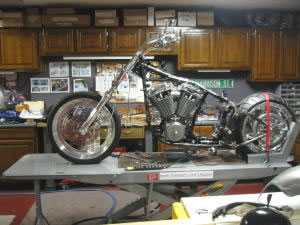 The brake and shifter forward controls were removed. The rear wheel was attached to the bike vice and we have installed the ramp support hardware for the front extension.
Remove the front brake caliper while leaving the brake line attached. The handle bars will be removed next, this will save time so the brake bleeding will not be needed.
Remove the handle bars with the brake caliper attached.
Support the front with a bottle jack and remove the axle caps and axle nut. Loosen the acorn nuts and slide the axle out. The tire is now free from the forks.
Loosen the pinch bolts and unscrew the steering stem from the upper triple tree by hand and slide it completely out of the lower triple.
Remove the fork stem cap, bend the lockwasher tab away from the fork stem nut and remove the nut. Remove the adjusting nut and pull the fork out of the steering head.
The 4 motor mount bolts were removed and the engine lifted out onto a couple of 2x4.
A temporally engine stand was constructed until the 'real' engine stand arrived.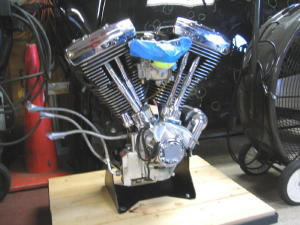 The new engine stand now holds the motor. Mounted onto a small dolly, the motor can easily be moved around the shop. (Should have saved the $40 and just used the wooden stand)
The steering head(triple tree) was then removed.
The pictures are article on this page were kindly provided by www.jhchoppers.com
If you have written an article and would like it to be published, please contact us; webmaster@motorbike-search-engine.co.uk