Final Assembly - Time to bolt it all together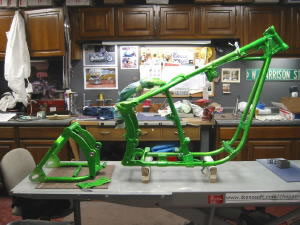 Frame Setup: With the frame and swing arm painted, it is placed onto the lift to start the final assembly. This will go quickly now that all the parts and sub-assembles have been previously installed during the hot mock-up phase.
Triple Tree and Fork Tubes: The frame is carefully tied to the lift table and the 7* rake triple tree is installed into the frame neck. The fork tube assembly is then slid up into the tree. Masking tape is placed on the tree to prevent scratching the new paint.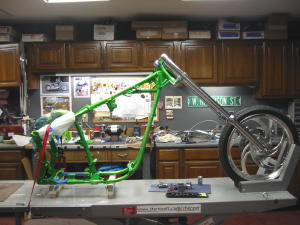 Front Wheel: The front wheel is installed and is placed into into the bike vice.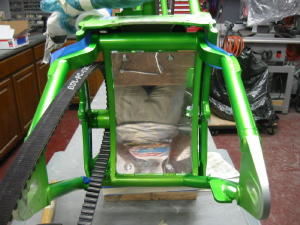 Swing Arm: The swing arm is now attached to the frame (don't forget the belt). A chrome splash guard is attached to the front of the swing arm.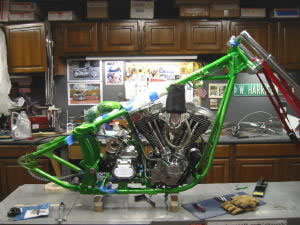 Engine and Transmission Install: The lift is dropped to floor. Masking tape and bubble wrap is place onto the frame where the engine and transmission might bump into. The engine is carefully placed into the frame followed by the transmission and transmission plate.
Rear Wheel: The rear wheel and air ride suspension is installed and aligned to the transmission. The axle covers are placed over the end of the swing arm and the license plate is attached to the axle.
Primary Drive/Starter/Oil Pan: The clutch, compensation sprocket and drive is installed. The starter and oil pan are placed in and the oil lines are connected.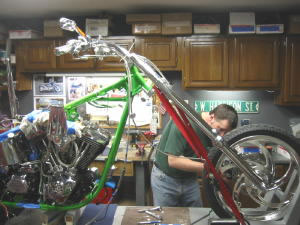 Handle Bars and Controls: The handle bars are attached to the tress. All the cabling was connected together from the hot mock up, this makes the assembly very fast. The front brake is attached to the wheel, clutch line is attached and throttle cables are connected.
Sheet Metal: The front fender, rear fender and tank are attached to the bike. Man.... Its looking really nice. The cosmetic tank extension look awesome.
Wire Harness: With the rear fender attached, we can add the wire harness. The fuze panel is built into the fender, the is basically no room for any electronics on a chopper...
Seat: We attached the seat and take it off the lift. Roll it out into the driveway, add about 1 gal of gas... Done... She fires right up !!!
Completion of the Final Assembly: The bike has come along way over the last 19 months. This has been one of the most satisfying engineering projects that I have ever worked on no time tables and freedom to create. Its been an overall great learning experience.
The pictures are article on this page were kindly provided by www.jhchoppers.com
If you have written an article and would like it to be published, please contact us; webmaster@motorbike-search-engine.co.uk