2012 Triumph Bonneville T100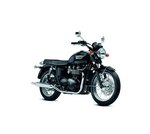 Classic Triumph parallel-twin roadster
Traditional spoked wheels and period paint schemes
Modern engineering and technology for clean, reliable running
Two new two-tone colours options for 2012
Standard two year unlimited mileage warranty
Triumph's Bonneville ruled the roads during the 1960s and no current motorcycle replicates so closely the style and experience of those golden years than the modern day Bonneville T100.
With its traditional wire wheels and traditionally coachlined two-tone paintwork, the Bonneville T100 looks like it could have been built in 1969. But look closer and you will see a modern machine dripping with authentic touches only Triumph can deliver.
Outwardly that 865cc parallel-twin may resemble the classic 650cc pushrod motors of 'the day', but the Bonneville T100's double overhead camshaft engine is bang up to date with modern fuel injection for clean running and modern levels of performance and reliability.
Neat retro touches like the 'carburettors' that hide the fuel injectors, dummy pushrod tubes and positioning of the ignition key pay respect to Bonneville legend, but while bypassers will admire the Bonneville T100, it's the riding experience that really delivers.
Turn the key, down at the left hand side of the headlight just like the first Bonnevilles, and enjoy the mellow soundtrack of that traditional British paralleltwin. Twist the throttle and that 68PS engine delivers real world performance, with the 41mm front forks and traditional chromed rear shocks providing poised handling and a comfortable ride.
While the standard Bonneville and Bonneville SE already deliver an authentic roadster experience, the T100 takes things a stage further with real 1960s' detailing. Peashooter silencers, classic two-tone colour options and spoked steel wheels (with a larger 19" front) give the T100 more presence and the sort of kudos only a 'Brit twin' can deliver.
The two-tone colour options complement the traditional Bonneville styling and have the added touch of gold or silver coachlines, painted by hand just as they always have been. Three regular options are available: Cranberry Red with New England White or Graphite and metallic Phantom Black are the two-tone options,
while the popular single colour Jet Black option is also available and comes with matching black-finished engine cases.
Completing the T100's 1960s look are rubber fork gaiters, knee pads and classically styled handlebar mounted speedometer and rev counter, which includes a clock and trip information.