2012 Kawasaki ZZR1400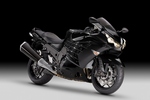 KING OF ALL SPORT BIKES - LATEST AND GREATEST IN A LONG LINE OF FLAGSHIP MODELS
Directly descended from the legendary GPz900R, Kawasaki's newest flagship is the ultimate blend of Extreme Excitement and Everyday Versatility. Not only is it the world's fastest accelerating production motorcycle, but superb handling and balanced performance (care of advanced technology and numerous comfort features) ensure riders are equally at home carving up twisty roads in the hills, heading across the border to meet friends for lunch or deftly weaving through city traffic, as they are hurtling down the dragstrip. The ZZR1400 proudly stands at the head of Kawasaki's road sports line-up, but its almighty performance makes it the King of All Sport Bikes.
STRONGEST ACCELERATING PRODUCTION MOTORCYCLE ON THE PLANET
Designed to settle the issue of supremacy in the flagship class once and for all, the ZZR1400's new engine boasts an increased displacement and thorough engine tuning to deliver heady levels of power and unrivalled acceleration. The step up in performance over its predecessor is readily apparent, with more available torque across the rev range and substantially higher upper-end power. And with the notably stronger acceleration,
twisting the throttle past 4,000 rpm may result in a sensation not entirely unlike that experienced by astronauts breaking free from the Earth's gravitational pull.
Dominant Performance
4 mm longer stroke increases displacement of the powerful In-Line Four engine to 1,441 cm³. Bore and Stroke are now 84 x 65 mm.

Compared to its predecessor, the new engine offers more torque at all rpm, and substantially more power in the mid-high range. Acceleration from 4,000 rpm and up is notably stronger.

Torque is strong enough to pull away from lights in almost any gear: at 2,000 rpm there is 9.5 kgf.m of torque available! And this figure jumps significantly from 3,000 rpm.

Cylinder head features precision-crafted combustion chambers. Previously cast along with the head, the milled combustion chambers increase compression ratio to 12.3:1 (previously 12.0:1). The higher combustion ratio contributes to the overall increase in performance.

Both intake and exhaust ports have revised shapes for increased performance. Additionally, the intake ports are now polished, contributing to smoother intake airflow. Exhaust ports have a greater diameter, facilitating the expulsion of spent fuel-air mixture.

ø33.4 mm intake valves feature longer (+0.4 mm) stems. An induction hardening treatment on the valve faces and a new valve seat material contribute to increased performance as well as high reliability. ø28.3 mm exhaust valves are heat treated for high strength and high-rpm reliability.

Revised cam profiles and increased lift for both intake and exhaust contribute to the increased performance.

Stronger cam chain matches the increased performance as well as the taller cylinder height. New cam sprockets and chain guides match the engine changes.

New hydraulic cam chain tensioner features a mechanical ratchet system that ensures pressure on the cam chain is maintained when the engine is cold (and hydraulic pressure is low), reducing mechanical noise.

Forged pistons have thinner crowns that match the new combustion chambers and a revised skirt design that alleviates stress. Matched to the higher piston velocities, the new pistons are stronger and lighter (by approximately 6 g each), reducing reciprocating weight and contributing to increased performance.

Bypass holes between cylinders 1-2 and 3-4 idealised to minimise pumping loss. The reduction in
power-robbing pumping loss was a big contributor to the new engine's increased performance.

A new external-feed piston jet system ensures that a constant jet of cooling oil is sprayed on the underside of the pistons. External feed sources oil from the oil pump and delivers it to jets positioned on the exhaust side of each cylinder.
The revised jet nozzle shape and position enhances the cooling effect, contributing to increased performance.

Connecting rods are 3 mm longer (112.5 mm >> 115.5 mm) to match the new stroke. To match the increased performance, the small ends are beefier (outer diameter is 1 mm larger). To account for the increased play that comes with the longer stroke, the big end bolts are made from stronger material (approximately 30% greater tensile strength) and fastened with greater torque – a tuner's trick that
contributes to increased performance.

Crankshaft is also stronger to suit the greater performance. Main journal diameter is now ø40 mm (previously ø38 mm).

Air cleaner element is larger, thicker and (along with filter material with a revised folding pattern and pitch)
offers a greater effective filter surface. The effective surface is approximately 10% greater and offers a decrease in flow resistance of about 60%. The result is increased filtering performance and reduced filling
resistance – which both contribute to increased performance.

ø44 mm throttle bodies are complemented by a new throttle body assembly that features a remote ISC valve. In addition to the benefit of not having to make idle speed adjustments, ISC helps reduce emissions during deceleration (when the throttle is rolled off). Lower emissions make is possible to use smaller catalysers, thereby contributing to increased performance.

Larger header pipes and a reshaped collector also add to the increased performance.

Commensurate with the increased performance, larger silencers ensure that noise and emissions regulations
are met.

Silky Smooth Engine
One of the inherent benefits of an In-Line Four engine configuration is its perfect primary balance.

Complementing the perfect primary balance, dual secondary balancers further reduce unwanted engine vibration, ensuring a supremely smooth engine.

Stronger, Shorter-geared Transmission
While the increased engine performance already delivers significantly increased torque, shorter gearing care of a larger rear sprocket (41T > 42T) further accentuates the stronger acceleration.

Heat and surface treatment for all the gears ensures the durability to cope with the incredible loads from the powerful engine as well as greater wear resistance for the parts of the gear that come in contact with the shift forks.

Stronger 530-size chain features larger pins and inner plates to match the engine's greater power and
torque.

Series-first Back-torque Limiter Easily adjustable back-torque limiting clutch facilitates smooth downshifts
and helps prevent rear wheel hop, which becomes more likely with the increased back-torque.

In addition to assisting with control, the back-torque limiter also helps protect the drivetrain.

Increased Fuel Efficiency
Despite the increased displacement, more advanced ECU programming gives the ZZR1400 better fuel
efficiency than its predecessor. Careful adjustment of fuel volume and ignition timing when speed is constant
improves fuel consumption by approximately 8% – an achievement realised without compromise to
driveability.

SPORTIER HANDLING. SUPERB HIGH-SPEED STABILITY
With the new flagship, Kawasaki engineers wanted to keep the same general handling character (light & neutral) and relaxed, sport riding position of the predecessor, but to give it a sportier edge. A new frame with completely revised chassis rigidity, sportier suspension with improved absorption performance and firmer bottoming resistance, and lighter wheels with new tyres enabled them to achieve their goal. The ZZR1400 sheds its weight as soon as it gets underway, it is easier to become one with the bike, neutral handling is complemented by increased feedback from the chassis (which facilitates sport riding), and the suspension's increased road holding helps realise sportier handling while ensuring rock steady high-speed stability.
Aluminium Monocoque Frame
While basic geometry is inherited from its predecessor, rigidity of the aluminium monocoque frame was
completely revised to suit the new engine's greater output. Deceptively, the frame looks unchanged, but more
than half of its components are new.

Steering head rigidity was increased. This area in particular contributes to the improved handling.

The back-plate for the battery (mounted inside the monocoque frame) is formed from aluminium (previously plastic), contributing to increased rigidity.

Revised construction method for the swingarm pivot sections also adds to the increased rigidity.

The engine is rigid-mounted, further contributing to the monocoque frame's inherent torsional rigidity. Using the engine as a stressed member allows the frame to be made lighter.

Using multiple construction methods – the steering head is a massive gravity casting (contributing to the high rigidity), the main monocoque section is a pressing, and the swingarm pivot sections are high-vacuum die cast pieces – allows the frame to be made very stiff where stiffness is needed and more flexible where flexibility is needed. Being able to control the wall thickness of the various components makes it possible to attain a light frame with an idealised stiffness balance.

Stronger, Longer Swingarm
Gusseting on the swingarm increases rigidity to match the greater output. Swingarm is 10 mm longer to suit the new final gear ratio. (This also contributes to the slightly longer wheelbase.)

Sportier Suspension
Stiffer springs for both the front fork and rear suspension deliver a firmer, sportier feel. Along with the new springs, damping settings were also revised to suit the significantly greater output.

With the new settings, the majority of the suspension action takes place higher in the stroke (compared to on the predecessor, where action took place closer to the bottom of the stroke with the suspension almost fully compressed). The result is that absorption and road holding performance are both improved, helping to achieve a sportier character as well as high-speed stability.

Rubber dampers added to the front fork contribute to firmer bottoming resistance.
Lightweight Wheels
All-new wheels offer significant weight savings over those of the predecessor. The front wheel is
360 g lighter and the rear wheel saves 1030 g, for a total reduction of 1.39 kg.

The reduced rotational inertia and lower unsprung weight increase the bike's flickability, contributing to the sportier handling.

High-performance Tyres
High-speed radial tyres are rated to 300 km/h, ensuring superb stability in the ultra-high speed range.

Triple Petal Disc Brakes
ø310 mm petal brake discs, radial-mount front calipers and a radial-pump brake master cylinder offer impressive braking performance and superb feel.

Aluminium front disc inner rotors (ø200 mm) reduce unsprung weight while ensuring ideal rigidity.

A ø250 mm petal disc with twin-piston caliper slows the rear.

Improved ABS Performance
ABS models are available in certain markets. Revised ECU programming based on test rider and customer feedback results in improved ABS braking performance on bumpy road conditions (e.g. uneven surfaces encountered when riding in the hills, cobblestone streets in some towns, etc).

Aerodynamics
Sculpted by the wind, the ZZR1400's bodywork offers high aerodynamic performance that reduces drag, and contributes to stability and wind protection at highway speeds.

Ergonomics
The ZZR1400 offers a very relaxed sport riding position. Compact without being cramped, the bars are
positioned so that riders do not have to stretch to reach them.

The narrow engine, monocoque frame and waisted fuel tank make it easy to keep knees close together
when riding.

Low-set footpegs give ample legroom.
The new gunfighter-style seat contributes to both design impact and ergonomics. Its sculpted shape
provides hip support during strong acceleration. Slimmer at the front, it also facilitates the reach to the ground when stopped at lights.

A depression in the fuel tank cover facilitates tucking in behind the screen.

Sculpted indents in the side of the tank cover ensure there is plenty of room for the rider's hands when manoeuvring at low speeds. Steering angle is an ample 31 degrees in each direction.

Heat Management
Radiator is equipped with two cooling fans (previously one: ø185 mm). The second fan (ø130 mm) provides
increased cooling performance.
The more pronounced fin design of side fairings is more than just ornamental. The fairing outlets facilitate heat dissipation, allowing hot engine air to escape more quickly. Heat to the arms and legs of the rider is significantly reduced, increasing rider comfort.

A heat guard added to the exhaust joint pipe protects the rider's calf from heat when stopped.

Heel guards rearward of the passenger footpegs offer heat protection for the passenger as well as scuff protection for the silencers.

ADVANCED ELECTRONIC RIDING AIDS
While the ZZR1400's mighty engine performance was intended to be experienced unfiltered, riders may elect to take advantage of the some of the advanced electronic riding aids provided to suit riding conditions or preference.
3-Mode KTRC (Kawasaki TRaction Control) The KTRC system offered on the ZZR1400 combines the best elements of Kawasaki's two traction control systems, S-KTRC and KTRC. Three modes cover a range of riding conditions, offering either enhanced sport riding performance or the peace of mind to
negotiate slippery surfaces with confidence.
Riders can choose from three modes. Modes 1 and 2 prioritise maximum forward acceleration (like the S-KTRC system on the Ninja ZX-10R). Mode 3 is similar to the KTRC system offered on the 1400GTR ABS, providing rider reassurance by facilitating smooth riding on slippery surfaces. Riders may also elect to turn the system off.

Compared to the three modes offered on the Ninja ZX-10R's S-KTRC (which was designed to allow riders to enjoy experimenting with various combinations of settings as they tune their bike for particular corners on the circuit), the effects of Modes 1, 2 and 3 are much easier to distinguish and cover a much wider range of
riding conditions.
In Modes 1 and 2, highly sophisticated programming allows a degree of slip – a certain amount of slip is required to maximise acceleration. The ideal slip ratio varies according to conditions. The system looks at a number of parameters to get an accurate real-time picture of what is going on: front and rear wheel speed
(slippage) and various engine, machine and rider input parameters are monitored.

Using complex analysis, the system is able to predict when traction conditions are about to become unfavourable. By acting before slippage exceeds the range for optimal traction, drops in power can be minimised, resulting in ultra-smooth operation.

Conditions are confirmed every 5 milliseconds, and control via ignition timing allows extremely quick reaction.

In Mode 3 (the most intrusive) the same logic and control as in Modes 1 and 2 is employed during normal operation. However, when excessive rear wheel spin is detected, Mode 3 switches to three-way control – governing ignition timing, fuel delivery and airflow (via the sub-throttles) – and engine output is reduced to a level that allows the rear wheel to regain grip. It is the control of the sub-throttles that enables smooth operation. This fine control results in a very natural feeling: engagement is smooth, on/off transition is smooth, and stability is maintained during extended operation. (While KTRC offered on the 1400GTR purposely delayed intervention to let riders know the rear wheel was spinning, intervention in Mode 3 is essentially delay-free.)

In Mode 3, KTRC effectively enables riders to negotiate both short slippery patches (such as train tracks or manhole covers) and extended stretches of bad road (e.g. wet pavement, cobblestone, gravel, etc) without worry. Wheel spin is also limited when starting on a slippery surface.

The system is also able to distinguish between torque wheelies, which are smooth, and sudden wheelies, which can be dangerous. In Modes 1 and 2, torque wheelies are allowed as long as acceptable acceleration is maintained. Sudden wheelies trigger system intervention. In Mode 3, all wheelies are prevented.

The system uses minimal hardware but complex software. Apart from the engine ECU, the system relies on only front and rear wheel speed sensors – which means minimal additional weight (none, in the case of ABS models, which already have wheel speed sensors).

By default, KTRC is always ON when the engine is started. (The mode will be the same as when the engine was turned off, or in Mode 1 if the system had been turned off.) Riders must consciously turn the system off (using the on/off button on the left grip).

Power Mode Selection
A choice of Full Power or Low Power modes allows riders to set power delivery to suit preference and
conditions. Low Power mode limits output to approximately 75% of Full Power and uses a milder throttle
response. (Reduction of both power and throttle response varies according to engine speed (rpm),
throttle position and gear position.)

Combining the various KTRC and Power Mode options, riders have eight combinations from which to choose. For example, an experienced rider on dry pavement might choose Full Power and KTRC Mode 1 for sport riding. On a wet and/or slippery road surface, Low Power and KTRC Mode 3 might be selected.
Each system can be set independently to best suit rider skill/preference, riding location and road conditions.

PRESENCE & PRECISION: IMPOSING APPEARANCE FROM AFAR. IMPECCABLE QUALITY UP CLOSE.
Like its predecessor, the ZZR1400 exudes an aura of power and assurance found only in the world's most powerful machines. Its essential character is maintained, making its lineage clear for all to see, but where the
design of its predecessor favoured curved lines and rounded surfaces, the new design combines curves with sharp edges that create dynamic surfaces. Unlike the recent trend in supersport and super-naked design
towards mass-forward designs with minimalist tails, a voluminous tail design and more balanced approach to front-rear impact ensure that Kawasaki's latest flagship cuts an imposing figure from any angle. And befitting a flagship model, extra care with fit & finish and attention to detail result in a machine that is equally impressive when viewed from a more intimate proximity.
Sculpted Styling
More aggressive design for the characteristic quadruple projector beam headlights contributes to the
increased impact of the front cowling.

Central Ram Air duct, a key design element of all Ninja supersport bikes, reinforces the bike's Kawasaki identity.

From the side, the front and rear of the bike are visually balanced, giving the ZZR1400 a very solid-looking appearance.

Because the monocoque frame goes over the engine and does not protrude through the fairing, an uninterrupted fairing design is possible.

Thematic quadruple fins of the side fairings are maintained, although their design is more 3-dimensional,
contributing to a more dynamic image of the side of the bike.

More aggressive, larger-volume tail maintains the LED taillight and integrated rear turn signals of the
predecessor.

The more substantial tail volume creates a more integrated rear view: the tail cowl, rear tyre and twin
silencers have good visual and spatial balance.

Larger-volume silencers contribute to the dramatic impact of the rear. Their pentagonal design enables the requisite silencer volume while ensuring that the bike's deep bank angle could be maintained.

The optional single seat cover integrates perfectly with the design of the tail and contributes to imposing
rear view. (The single seat cover can be used, but removing the passenger tail grip and luggage hooks is
required.)

Multi-function Instrumentation Nestled in the canopy is an instrument cluster with dual analogue-style speedometer and tachometer. Black faces with white font make them easy to read at a glance.

Multi-function digital display now includes external air temperature and a more precise remaining range function. (In addition to a more precise fuel gauge, the ECU also keeps track of injected fuel volume when calculating remaining range readings.)

Other features on the multi-function display include a fuel gauge, gear position indicator, odometer, clock and dual trip meters. Numerous modes including current and average fuel consumption, remaining range, battery voltage and the newly added external air temperature are all controlled using a multi-function button located at the left handle.

KTRC (3 modes + OFF), Power Mode (2 modes) and initial instrument settings (language, clock set, etc) are also controlled using the multi-function button.

The Economical Riding Indicator appears on the LCD screen to indicate favourable fuel consumption. Paying attention to conditions that result in the mark appearing can assist riders to maximise their fuel efficiency. This handy feature is active all the time, although to be effective, the rider must ride in a gentle manner: less than
6,000 rpm, less than 30% throttle, under 160 km/h.

Fit & Finish, Attention to Details As much as possible, cowling fasteners are placed out of sight. Bodywork is connected using hidden hooks, or with fasteners located on the inside surface. With the bodywork's excellent fit, this results in a clean, uninterrupted surface.

Pressed stainless-steel rings around the instrument dials add a high-class touch, as does the Flying K emblem at the centre of the console.

The meter casing and the cockpit inner panels (to the left and right of the instruments) have the same surface pattern, creating an integrated look.

The inner panels have a flat design, facilitating customisation of the cockpit area by adding switches, lights or after-market accessories.

Sculpted design of the upper triple clamp complements the high-quality image of the cockpit area. On the special graphics edition, the upper triple clamp features contrasting sections: painted finish vs. hairline finish with a clear coat.

Specially designed, drilled billet steering stem nut adds another quality touch. The miniature work of art, representative of this model's high attention to the smallest detail, serves as a visual reminder of the ZZR1400's regal status.

Machined finish on the fuel tank cap contributes to the high-quality image.

High-quality sculpted rubber tank pad protector, provided standard, protects the finish of the lustrous paint on the fuel tank.

Increased Carrying Convenience
The ZZR1400 features retractable luggage hooks that tuck in neatly at the rear of the front seat. These are complemented by two hooks on the passenger tail grip. Idealised hook placement (not too close together) enables large-sized items to be securely attached to the rear seat.