2012 Kawasaki KX250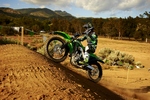 RACE-PROVEN PERFORMANCE FOR MID-EXPERT RIDERS: INTRODUCING THE "NEXT LEVEL" OF POWER
The KX250F base package provides an excellent platform for race-experienced riders to win races in the top classes. Design of the highly rigid aluminium frame, suspension components and settings focuses on ensuring control is maintained during high-speed riding – especially in straight lines – to enable experienced racers to ride to their maximum potential....and to deliver holeshot-winning performance – a key factor that can mean the difference between running up front and winning, or getting stuck mid-pack – chassis geometry and the high-revving 4-stroke engine's wide powerband were designed to maximise rear wheel traction. A proven race-winner and a potent track weapon in the hands of any serious rider, the 12MY KX250F elevates its game with the world's first motocrosser with dual injection. The new system takes the performance of the already highly acclaimed engine to the next level, offering power delivery gains that put the KX250F in a class of its own.
KEY FEATURES

POWERFUL, HIGH-REVVING DUAL-INJECTION ENGINE WITH FACTORY-STYLE TUNING
Tuned to best suit race-experienced riders, the 249 cm3 liquid-cooled, 4-stroke single's wide powerband focuses on high-rpm performance and extends way into the over-rev.
Highly acclaimed for its high output and power delivery (thanks to race-inspired tuning and parts like the
high-performance piston with bridged-box bottom), the 2012 KX250F takes MX engine performance to the next level with the world's first dual injection for motocrossers. The power increase – recognisable by riders of any level – is complemented by the smooth FI response of the 2011 model. Further engine changes offer smoother shifting and increased reliability.
The Next Level of Power: Dual Injectors
Dual injectors – a world's first for motocrossers – give the KX250F a significant increase in power. Power is greater at all revs, but especially in the high-rpm range. Torque feeling is reminiscent of a carburetted engine. The superb Kawasaki FI response is unchanged.
The KX250F fuel injection system features dual injectors: an injector downstream of the throttle valve
(where injectors are located on standard FI systems), and a second, upstream injector located close to the
airbox.

Unlike the dual injection found on supersport models (where the upper injector operates only part-time,
providing additional fuel when necessary), the two injectors in the KX250F fuel injection system have
different roles. The downstream injector is used to ensure smooth, instant response while the upstream
injector is charged with providing power. As rpm and throttle position increase, operation switches from the
downstream injector to the upstream injector. (Depending on whether in a low (1st, 2nd) or high (3rd, 4th, 5th) gear, the switch is gradual or almost instantaneous.)

The upstream injector's greater distance from the combustion chamber gives the fuel particles and intake air more time to mix, as well as allowing the mixture to cool before entering the combustion chamber, both of which contribute to more efficient filling.

To ensure the high-rpm engine's demand for a high flow of gas in a short period is met, both injectors
feature larger holes than that used on the KX450F. Although the upstream injector has a smaller body, both are fine atomising injectors with 4 holes, dispersing spray particles with a droplet size of 120 µm. Fuel flow is
about 20% greater than on the KX450F.
The 43 mm throttle body makes use of a progressive throttle link to deliver airflow in much the same way as
would a FCR carburettor. Using two linked shafts, the throttle body opens more quickly after the 3/8 open
position, delivering sharp response and excellent power feeling.

Designed specifically for motocrossers, the fuel injection system incorporates a small lightweight ECU and operates without a battery to further eliminate unnecessary weight. And of course, fuel injection eliminates the need to adjust engine settings to suit track and climate conditions.

Ensuring quick starting without a battery was a prime directive for the KX fuel injection system. Using only electricity generated by the kick starter, the engine can be started with only three rotations of the crankshaft. The system delivers electricity in the following order:
1) ECU, 2) fuel pump, 3) injector. With a warm engine, starting can be accomplished in a single kick.

The compact, lightweight ECU, located just in front of the steering head (behind the number plate), was designed specifically for motocross use. To help cope with the shocks and vibrations of motocross riding, the fuel pump relay is built in to the ECU.
For 12MY, the ECU is slightly larger to handle control of two injectors.

Fuel pump, located in the fuel tank, is a lightweight aluminium construction. To ensure a stable fuel supply during vigorous motocross riding, the fuel pump features a unitised plastic fuel filter cover that wraps around the inlet port and acts as a fuel trap. (Unitising the filter cover, changing its material from rubber to plastic
and eliminating the fuel return hose from the pressure regulator contribute to weight reduction.)
Factory KX FI Calibration Kit (option)
The KX FI Calibration Kit is the same kit used by Kawasaki's works teams in Europe and the U.S. The kit enables expert riders to adjust engine characteristics (by rewriting actual data maps) to suit their preference, record riding data, and analyse their riding data to further fine-tune their settings.
The KX FI Calibration Kit contains KX Racing software, an ECU controller, mounting brackets and damper, harness and USB cable. In addition to the kit, a PC and 12 V battery are all that is required.
While the kit is designed to satisfy racers and expert riders, it is simple and hassle-free to use:
- the ECU controller mounts behind the number plate for easy access
- accessing the ECU is accomplished simply by connecting to a PC via the ECU controller using a USB cable (no additional switches are necessary)
- setting adjustments can be prepared in advance on a PC, or done when connected to the ECU
- the kit's user-interface is simple to understand and easy to use

The KX FI Calibration Kit contains seven preset settings that can be quickly and easily used to adjust the ECU to suit track conditions. The provided settings are shown below.
Richer fuel setting - fuelling 5% richer than stock
Leaner fuel setting - fuelling 5% leaner than stock
Advanced ignition setting - ignition advanced 3o from stock
Retarded ignition setting - ignition retarded 3o from stock
Hard riding surface setting - ignition retarded, fuelling richer
Soft riding surface setting - ignition retarded, fuelling richer
Beginner setting - engine power suppressed: ignition retarded, fuelling richer

For more advanced setting optimisation, the ECU maps for volume of fuel injected (via the FI adjustment window) and ignition timing (via the IG adjustment window) can be adjusted for given throttle position and rpm.

When connected to the ECU, the KX FI Calibration Kit can be used to display the status of a running engine. Information can be displayed in numeric form using the Data Monitor, or in visual form using the various display options offered by the Data Meter.

The KX FI Calibration Kit can also be used as a data logger, recording up to six hours of data depending on the number of parameters (engine rpm, angle of throttle opening, etc) being recorded. After riding, the riding
data can be viewed using the [Analyze] window. Parameters to be recorded and displayed can be
selected independently.

The logged data can be lined up with the course layout to check actual riding, enabling more efficient FI settings to be determined. It also enables before-and-after comparisons and comparisons between riders.

For more detailed information on use and functions of the FI Calibration Kit, please refer to the KX FI Calibration Kit Instruction Manual.
Smoother shifting
The following changes to the transmission and gear change assembly contribute to smoother shifting.
Revised shift drum reduces the distance shift forks need to travel to engage gears (5.3 mm - 5.0 mm), resulting in smoother shifting.

Reduced surface roughness for the shift rods enables the shift forks to slide more smoothly. (The rods are also solid instead of hollow, contributing to increased durability.)

Factory tuning and other performance-oriented engine characteristics The engine was tuned such that the torque curve follows the limit of running resistance for as long as possible. (Unchecked, engine torque can exceed this limit, resulting in wheel spin, which does nothing to help forward momentum.)

Efforts were made to achieve the widest possible torque band, so that traction efficiency would be maximised for a greater part of the rev range.

High-performance piston, featuring the same design used on our factory racers, contributes to improved
performance at all rpm. A short skirt, reinforced external ribs and the industry's only mass-production use
of a bridged-box bottom, featuring fully flush internal bracing, result in a lighter, stronger piston.

Tin plating and striation on the piston outer surface ensure good wear resistance and oil retention for minimal sliding friction.

Cylinder bores are nickel-plated, which offers stronger plating adhesion to suit the increased engine power.

Lightweight titanium valves (IN: 31 mm; EX: 25 mm) reduce reciprocating weight and offer high-rpm reliability. The ultra-light valves have extremely thin valve stems on par with those found in supersport machines. The intake valves feature thicker heads for increased strength and both intake and exhaust valves are formed from a highly rigid, titanium material.

Spark plug protrudes deeply into the combustion chamber, contributing to combustion efficiency.

Thicker crank web and stronger crank pin contribute to increased reliability.
These changes increase inertial moment 2 kg.cm² but are offset by a new magneto rotor with reduced moment (1 kg.cm2 lower). Total moment is 1 kg.cm² greater.

Crank web design increases offsetting moment for a high crankshaft balance factor. At approximately 60%, the balance factor of the '12 KX250F is on par with our factory racers. The high balance factor contributes to reduced engine vibration, smoother power delivery and increased performance in the mid-high rpm range.

Connecting rod has a thicker stem, contributing to greater connecting rod and big end bearing reliability.

32 mm thick, 117.8 mm wide radiators with wide fin and tube pitch offer resistance to mud build-up while maintain cooling performance. The radiators are strong enough that the reinforcing brackets could be eliminated, resulting in lower overall weight.

Sprocket-style chain drive roller helps smooth engine braking by reducing the effect of driveline lash when the rider gets off the gas quickly and play in the lower side of the chain suddenly tightens. The additional control facilitates corner entry.

HIGH-SPEED CHASSIS WITH FACTORY-STYLE COMPONENTS AND TUNING
The KX250F's slim aluminium perimeter frame is a lightweight construction composed of forged, extruded and cast parts. Chassis balance and settings were all set to suit race-experienced riders. The centre of gravity and key dimensions (swingarm pivot, output sprocket and rear axle locations) were chosen so that the rear
tyre would drive the bike forward (instead of causing it to squat). Acclaimed for its high-speed stability, the chassis is complemented by its Separate Function front Fork (SFF), which offers greatly reduced friction that contributes to increased riding comfort and improved suspension performance. For 2012, changes to suspension settings result in greater rear wheel traction, better front fork top-out resistance and firmer rear
suspension feel.
Superior rear-wheel traction
The New Uni-Trak rear suspension system mounts the suspension arm below the swingarm, allowing a longer rear suspension stroke. The longer stroke in turn allows more precise rear suspension tuning.

Extensive rider testing was conducted to determine the ideal linkage ratios and rear shock absorber damping settings to achieve maximum rear wheel traction.

Rear suspension tie rod arms have less rigidity, resulting in a smooth suspension action with good
bottoming resistance that contributes to increased rear wheel traction.

Race-ready suspension: Separate Function front Fork
The KX250F is the only mass-production motocrosser to feature Showa's Separate Function front
Fork (SFF), which separates damping and shock absorption duties:
Left fork tube: damping assembly
Right fork tube: spring
The configuration offers both smooth action and firm damping performance – a combination difficult to achieve with a conventional fork.
With only one spring, the friction generated between the spring(s) and fork inner tube(s) is greatly reduced (approximately 25% less), resulting in extremely smooth action throughout the fork stroke.

Being able to use a larger damper piston not only enables smoother action, it also makes firm damping
performance possible.

Removing the damper assembly from the right fork tube frees up space for a preload adjuster. Having a preload adjuster greater simplifies the task of setting fork preload or front height.
(With a conventional fork, only the rear could be adjusted easily; adjusting the front required fork tubes to be disassembled and the use of collars and special tools. With SFF, both the front and rear preload/height can be set quickly and easily.)

In addition to preload adjustment, the racer-friendly SFF also facilitates other maintenance chores like adjusting damping and changing springs.
SFF offers improved left/right balance, which greatly enhances handling. Locating the heavy spring in the right tube (and fine-tuning the left and right tube strength) better offsets the previously unbalanced weight of the brake caliper and disc on the left side.

A restrictor added on the damper assembly side and a joint rod comp added on the spring side ensure that natural character is maintained. Placement of the restrictor can be used to change damping characteristics; it contributes to idealised damping character. The joint rod comp ensures even left/right damping force and contributes to ideal fork rigidity.

Stiffer main spring optimises fork performance.
A longer top-out spring (with reduced spring rate) allows it to operate over a greater range, resulting in a more gentle feeling when the top-out spring starts to work, as well as a reduced chance of topping out.

A super-hard titanium coating on the outer surface of the inner fork tubes reduces sliding friction (and stiction) and improves action, contributing to the smoother ride. The increased surface hardness of the dark navy blue coating also helps to prevent scratches and damage to the tubes.
(The KX250F is the only motocrosser in its class to feature this race-ready coating standard.)

Friction-reducing Kashima Coat on the inside of the fork outer tubes contributes to smoother suspension action (especially at the initial part of the stroke) and a better ride feel.

Race-ready rear suspension
Stiffer rear shock spring and revised shock damping settings (revised piston rod end and revised plug bolt result in narrower oil passageways) result in smooth, steady shock action that offers a firmer feel and
increased setting flexibility.

The rear shock features dual compression adjustability, allowing high-speed and low-speed damping to be tuned separately.

The rear shock also features the Kashima Coat on the tank cylinder. The reduced friction smoothes suspension action.

Factory-style and other race-oriented components
Among the KX250F's numerous factory-style components are its front and rear petal disc brakes. In addition to helping reduce unsprung weight, the wave shapes of the petal discs help clean the brake pads for more efficient braking performance.

Rear caliper guard protects the caliper from damage A factory-style Renthal (standard-type) aluminium handlebar is standard equipment.

Rib-less rear hub and butted spokes reduced unsprung weight.
Rims are coated in black alumite – just like our factory racers.
Fork and rear shock adjusters have a blue alumite finish like our U.S. factory racers.

Oil cap and the two plugs on the generator cover have a blue finish, further contributing to the
KX250F's factory styling.

Factory-style graphics complement the KX250F's highly tuned performance.
Rider interface
Designed with rider ergonomics in mind, bodywork components offer the rider a slim interface, the natural position making it even easier for racers to go fast. Formed using a double-injection moulding process, 2-tone shrouds contribute to the slim package.

2-tone side covers are also formed using a double-injection moulding process. Like the shrouds they
contribute to the slim package. A hole in the right-side cover helps cool the silencer.

The frame widens at the ankles to offer the rider better grip and narrows near the bend below the seat to allow a slim riding position.

The seat uses a slip-resistant top surface for good grip when seated and smooth sides for excellent rider mobility.

Revised seat urethane helps maintain the original shape longer.
Wide (front-to-rear) footpegs designed to offer grip and superb feel at the pegs. The clutch cable boot features a large quick adjuster, making it easier for riders to adjust play in the clutch cable.

Throttle grip has a unitised collar. The one-piece unit provides additional stability during throttle operation.

Lightweight short-length grips feature a pattern designed to provide excellent grip.
Engine
On European models, pinched cut-outs in the silencer chambers direct exhaust gases into the glass-wool packing, helping to reduce exhaust noise.

Chassis
The alloy swingarm uses a cast front section, tapered hydroformed spars and forged chain adjusters.

Large synthetic skid plate offers great protection with minimum weight.

Other
Optional engine parts include magneto rotors with different inertias (7.5, 8.5 kg.cm2; STD: 8.0 kg.cm2) and a 12T output sprocket (STD: 13T).

Optional chassis parts include handlebar holders for a ø28.6 mm bar (STD: ø22.2 mm), aluminium and steel rear sprockets (48-52T; STD: 50T), solid petal brake rotors for wet races, and different springs for the front fork (9.1, 9.5, 9.9 N/mm; STD: 9.5 N/mm) and rear shock (49, 51,53, 55 N/mm; STD: 53 N/mm).

ADDITIONAL FEATURES
An FI indicator lamp (available as an option) warns of any problem with the FI system.