2012 Husqvarna WR250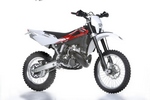 WR250: An Affordable Classic
After many years of honourable service and continuous development, the WR250 has reached a level of efficiency and reliability, with Kayaba forks and the new Ducati Energy ignition. The latest version of the Husqvarna WR250 also benefits from a range of common updates for 2012: chassis painted black, anodised silver Excel rims and redesigned graphics. With outstanding performance, exceptional reliability, coupled with affordability no further changes were needed. This bike has all the winning traits, the advantages of a big two-stroke engine with the joy of off-road riding on a small budget.
Black chassis
The single piece chrome-moly steel chassis of the 2012 WR250 is now black not white, but the technical features remain unchanged. The light alloy swing arm is attached to the Sachs rear shock by a progressive linkage, while the front suspension has the same 48mm hydraulic fully adjustable Kayaba forks, as used on other Husqvarna enduro racing models. The brakes are Brembo, with a large diameter (260 mm) daisy wheel disc on the front, controlled by a twin piston floating caliper, while in the rear the Husqvarna WR250 comes fitted with a solid disc, often preferred by professional riders for greater control and life expectancy of brake pads, especially over muddy terrain.
The two-stroke 250 cc school of thought
Two-stroke engines typically have a less linear power delivery than big four stroke single cylinder engines, but they offer 2-stroke fans a riding experience that can not be found elsewhere. After many years of continuous development, Husqvarna technicians have transformed aggressiveness into effectiveness. This is thanks to fine tuning of the thermodynamics, the cylinder, exhaust expansion chamber, and the adoption as standard issue of the parts specially tested by the CH racing team. The Mikuni TMX38 carburettor, V-Force reed valve, Ducati Energy digital ignition, calibration of the exhaust valve and the crank shaft with the right compromise between inertia and reactivity.
The evolution of the WR250 engine aims to be perfectly balanced between easy control and explosive performance, essential in the more extreme enduro trials, where only five gears are needed to tackle every terrain. The advantage of the two-stroke's lightness and manoeuvrability.