2012 Husqvarna TE250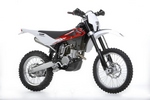 Husqvarna TE250: World Champion
To win a world championship is one thing, and no small feat, but to stay on top is more difficult. Meo's victory in 2010, the rising star of Seistola and recent wins by Salminen confirm the talent of these top class riders and the quality of the Husqvarna TE250. A well-designed bike that gets better season after season, thanks to the work of the Husqvarna racing team and R&D technicians. The new 2012 model TE250 guarantees better performance, both in terms of mechanics and engine output. There is a new Kayaba rear shock absorber to match the forks, and a redesigned exhaust to boost the performance of the compact engine.
Front and rear suspension now Kayaba
Along with the 48 mm forks, the rear shock absorber is now also by Kayaba, with external damping adjustment for low/high speed compression and rebound. The setting of the front forks has been completely revised to match the new shock, with new springs and internal settings.
As with all Husqvarna 2012 models, the steel chassis – a mixture of round, oval and rectangular tubing – is painted black, and has been reinforced at the steering head area with 25CrMo4 chrome-moly steel plates to improve structural rigidity. The Excel rims are anodised silver, and the new graphics are in-mould, integrated to the plastic structure, making them impervious to repeated power washes. The handlebar also has new clamps.
Engine: lightest in its class
The 2012 Husqvarna TE250 single cylinder, twin cam, 4 valve titanium engine, in addition to clocking up numerous victories at the EWC – the top international championship – retains its ultra light weight; at 22 kg it is the lightest 250 cc enduro engine on the market. The 2012 version now has a completely redesigned exhaust system, boosting maximum performance. The compact engine is the result of resolute design without compromise. All peripherals were developed specifically for this engine, such as the Mikuni fuel injection that feeds the cylinder head through a 42 mm throttle body and the electric starting with the classic kick start back up.
To ensure optimum reliability even on the slowest and most demanding circuits, the cooling system is fitted with a thermostat and electric fan. The engine power output can be altered for slippery conditions using the standard fit 'dual mode switch' on the handlebars.
The wet sump crankcase houses a 6 speed gearbox, and the clutch is hydraulically controlled.
With a world championship winning bike such as this - what more could you want?