2012 BMW R 1200 GS Rallye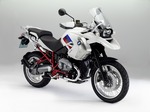 BMW Motorrad presents BMW R 1200 GS Rallye special edition.
Extended tours, long distance travels, and even journeys to the remote places of our planet run like a thread through the history of BMW GS, just like spectacular adventure rallies and magnificent sporting success. All of this now finds the ultimate testimony in the special model R 1200 GS Rallye from BMW Motorrad.
Body parts in solid Alpine white, graphics in the legendary BMW Motorrad Motorsports colours, and fork and engine in black lend the R 1200 GS Rallye its especially sporting, adventurous character. The Paralever swingarm in Asphalt grey metallic, cylinder head covers in Granite grey metallic, and an all chrome exhaust system provide a powerful contrast of engineering. A particular eyecatcher is presented by the rear frame with Magma red paintwork.
The sporting look of the 81 kW / 110 hp travel enduro is underscored by the seat in black and white. Cross spoke wheels, heated grips, hand protectors in white, case holder, onboard computer, and the electronic suspension adjustment Enduro ESA make this extraordinary GS ideal for a very wide range of applications.
The highlights of the BMW R 1200 GS Rally special edition:
Enduro ESA
All chrome exhaust system
Cross spoke wheels
Heated grips
Hand protectors in white
Pannier holder
Onboard computer
Body parts painted in Alpine white
Graphics in the BMW Motorrad Motorsports colours
Fork slider tubes lined in black
Engine lined in black
Rear frame lined in Magma red
Swingarm (Paralever) lined in Asphalt grey metallic
Cylinder head covers in Granite grey metallic
Seat in black and white