2012 BMW K 1300 S HP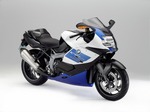 BMW Motorrad unveils the BMW K 1300 S HP special edition.
As the sportiest representative of the BMW Motorrad K Series, the BMW K 1300 S combines sporting character and riding dynamics with a high level of comfort, light-footed handling with absolute riding stability, and superior performance with perfect everyday practicality. At the same time, it offers a high level of protection against wind and weather and perfected ergonomics for long hauls.
The special edition BMW K 1300 S HP with the High Performance Package emphasises these virtues and upgrades the popular sports tourer to a vehicle of even greater prestige.
The special model bears an exclusive edition badge of brushed aluminium on the air box cover. This sporting character is underscored by the paintwork of solid Alpine White / metallic Lupin Blue / solid Night Black contrasting with the HP carbon parts like the covers for the front wheel, air box, clutch, and seat.
The technical highlights of the 175 hp packing K 1300 S are the HP gearshift assistant, the Akrapovic sports silencer, the electronic suspension adjustment ESA II, the automatic stability control ASC, the tyre pressure control RDC, the heated grips, and an onboard computer.
In addition, the BMW K 1300 S as a special model with HP Package benefits from yet more high quality equipment details. Its standard equipment includes the HP footrests for rider and passenger and a tinted windscreen.
For the perfect accommodation in the garage at home, this fully equipped special model of the BMW K 1300 S also comes with a paddock stand.
The highlights of the special model K 1300 S with HP Package:
Electronic Suspension Adjustment ESA II
HP carbon front wheel cover
HP carbon airbox cover
HP carbon clutch cover
HP carbon seat cover
HP footrests for rider and passenger
HP gearshift assistant
Akrapovic sports silencer
Onboard computer
Automatic Stability Control (ASC)
Tyre pressure control (RDC)
Heated grips
Tinted windscreen
Paddock stand
Metal badge of brushed aluminium with edition number on the air box cover
Special paintwork in solid Alpine white/Lupin blue metallic/Night black