2008 Royal Enfield Motorcycle Range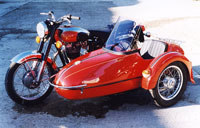 Introduction

There are three basic models in the Royal Enfield range for 2008. The 350cc Classic and 500cc Classic both have the original 1950's designed iron-barrel Bullet engine and will be available throughout most of 2008, after which they will be deleted as they will not meet tough new Euro 3 emissions controls. Then there is the new lean-burn Bullet Electra-X, powered by a modern 5-speed all-alloy unit, which is currently the best-selling model in the UK.

These classic British bikes continued to be built in Madras, (now known as Chennai), in India, after the UK factory closed its doors in 1970 and are enjoying a resurgence in popularity since UK distribution was taken over by sidecar manufacturers Watsonian-Squire in 1999.

Watsonian-Squire also offer a selection of UK-only model variants, including café racer and trials inspired motorcycles as well as 'off-the-shelf' sidecar outfits.