2008 BMW Motorcycle Range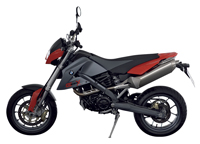 In 2008 BMW Motorrad will continue its current philosophy of producing lighter, more powerful and dynamic products to appeal to a wider motorcycle customer base. In total six exciting new BMW Motorrad models will be launched in the UK next year.
New Models for 2008:
F 650 GS – an all-new version of the popular GS all-rounder, now with twin-cylinder power.
F 800 GS – a completely new middleweight adventure-sports tourer, with excellent off-road performance.
G 450 X Sports Enduro – a brand new model for the competition enduro and sports off-road market, featuring cutting-edge technical innovation.
R 1200 GS – an uprated version of BMW Motorrad's best selling GS model, with new optional on and off-road Electronic Suspension Adjustment (ESA).
R 1200 GS Adventure – an uprated model of the ultimate long-distance enduro, also with new ESA and optional low first gear.
HP2 Sport – high specification supersports boxer, based on the R 1200 S Endurance Racer.
With first-time entry into the supersports and enduro market segments, the update of existing best-selling GS models, plus a new middleweight adventure-sports tourer, BMW Motorrad UK is planning to achieve approximately 10% sales growth in 2008.
To help achieve this increase BMW Motorrad plans to attract new riders to the brand with a competitive pricing policy across the range. The new F 650 and 800 GS, in particular, will be introduced into the market place early in the season, with attractive BMW Insurance and finance packages.
To make its motorcycles more accessible to both new and existing customers BMW Motorrad will be expanding its dealer network in 2008, increasing the manufacturer's presence across the UK. With plans to fill existing open points, plus expansion into new sales territories, coverage by the reputable dealer network will be strengthened.
To highlight the potential of its new models BMW Motorrad will also be intensifying its racing activities in 2008. The new HP2 Sport Endurance Racer will again be competing in the World Endurance Series, with Brit Richard Cooper aboard the number one team bike. The BMW Motorsports Team will also be entering the new G 450 X Sports Enduro into a full World Enduro championship season, with off-road legend Joel Smets. The busy team will also start testing BMW's new 1000cc in-line four superbike, in preparation for a full scale assault on the Superbike World Championship in 2009.
Adrian Roderick, General Manager of BMW Motorrad UK, said, "2008 is shaping up to be a really exciting year for BMW Motorrad in the UK. Not only are we launching six new models, no small achievement by any standards, but we are continuing to enter new market sectors and launch new products that will appeal to a wider motorcycling audience. This, along with our competitive pricing policy and the strengthening of our industry-leading dealer network, will see BMW Motorrad increase sales in the UK by approximately 10% next year."