The 2007 Honda Motorcycle Range
Click on an image for large images and more information.
2007 New Model Line Up;



Original Line Up;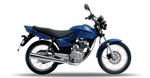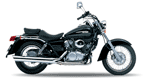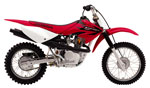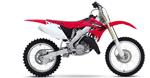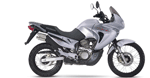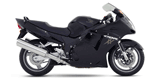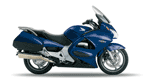 Honda's UK launch for our latest models was at the International Motorcycle and Scooter Show at Birmingham's National Exhibition Centre.
This was the first chance that motorcyclists from the British Isles had a chance to see the new models such as the CBR600RR, Hornet and CBR125R in the flesh.
One of Honda's unique safety initiatives - the Honda Motorcycle Trainer - was even tried out by the current Transport Minister - and bike licence holder - Dr Stephen Ladyman.
Honda UK's General Manager for Motorcycling, Mark Davies said: "Dr Ladyman was impressed both by the realism offered by the Motorcycle Trainer and the way it can benefit both experienced and novice riders without exposing themselves to the risks on the road. We've been evaluating the Motorcycle Trainer this year with Bikesafe and the feedback from both riders and the police instructors has been extremely positive. You'll be able to see Motorcycle Trainers in some Honda dealers in the Spring."
Despite attendance figures being 12% down on last year's, thousands of bikers crowded the Honda stand to take home brochures on the new models.
Scott Grimsdall, Honda's Media Relations Executive, said: "It's been a really busy year for us with lots of people showing interest in our new models. The MCI have pulled off a fantastic show again!"
Erica Gassor from the Honda Owners' Club enjoyed the show. HOC members attended the show on the Wednesday. She said: "Although there seemed to be fewer people at the show than in previous years, there was still the usual 'buzz' and a lot of interest in the new bikes, both machines like the new CBR600RR and machines that have received press praise and awards this year, such as the CBF1000."
One of the biggest draws for Honda at this year's show was the very popular 'My First Licence' event, where children between the ages of 5-11 could ride for the first time and learn the need for respect when controlling a vehicle on the road. The experience was fully-booked for the duration of the show with more than 800 children getting their first taste of motorcycling on a Honda.
Erica said: "You could see the enjoyment on the children's faces and see the queues for the event!"