The 2006 Victory Motorcycle Range
Click on an image for large images and more information.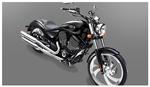 In a word, intimidating. Distinctively designed from headlight to tail, the 2006 Victory Motorcycle lineup simply breaks all the traditions of the typical cruiser. Styled to look radioactive, not retroactive. Engineered to be revolutionary, not evolutionary. Accessible enough to be the American reality, not the American dream. To own a Victory is to pull the trigger on greatness. To take a shot at convention. To take aim at a good-is-good-enough mentality. So read on. You'll come to understand why The New American Motorcycle commands such unwavering industry respect.