The 2006 Royal Enfield Motorcycle Range
Click on an image for large images and more information.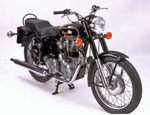 Introduction;
There are three basic models in the Royal Enfield range for 2006 - the 350cc Classic and 500cc Classic, both of which have the original 1950's designed Bullet engine and the new lean-burn Bullet Electra-X, powered by a modern 5-speed all-alloy unit.
These classic British bikes continued to be built in Madras, (now known as Chennai), in India, after the UK factory closed its doors in 1970 and are enjoying a resurgence in popularity since UK distribution was taken over by sidecar manufacturers Watsonian-Squire in 1999.
Watsonian-Squire also offer a selection of UK-only model variants, including café racer and trials inspired motorcycles as well as 'off-the-shelf' sidecar outfits.