The 2006 Piaggio Motorcycle Range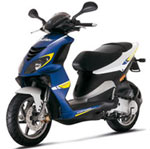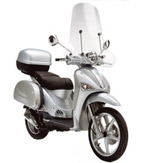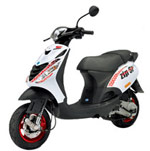 Based in Pontedera (Pisa, Italy), the Piaggio Group is one of the world's leading manufacturers of motorised two wheelers and leader of the European market in this sector.
Since October 2003 the Piaggio Group is controlled by Immsi S.p.A., an industrial and property holding quoted on the Milan Stock Exchange and headed by entrepreneur Roberto Colaninno, Chairman of the Piaggio Group. Rocco Sabelli is Group CEO.
Piaggio's production includes scooters, motorcycles and mopeds in displacements from 50 to 500cc under the Piaggio, Vespa, Gilera and Derbi brands. The Group also manufactures the Ape and Porter ranges of three and four-wheel light goods transport vehicles. Another significant production and sales sector is that of engines, where Piaggio is in the forefront of innovation and research. The company possesses internationally recognised advanced technical and technological know-how.
The Piaggio Group has factories in Italy, Spain, India and the People's Republic of China and a sales network in 55 countries on every continent.
In 2003 Piaggio sold 430,000 vehicles overall and had a consolidated turnover of 987.2 million Euro (+4.4% compared to the 2003 turnover of 945.8 million Euro).
Innovation, creativity, design and concern for the environment are the values that have always driven Piaggio's research, design and manufacturing activity.
Founded in 1884 by Rinaldo Piaggio and managed by the Piaggio family until 1999, the company has operated in practically every sector of mobility in its 120 year history - from ship fitting to rail engine and wagon construction, from building aircraft engines and seaplanes to producing civil and military aircraft.
The company's recent history is linked to light transport. With the launch of the Vespa in 1946, Piaggio anticipated an emerging need for personal transport that still characterises our society and created one of the world's best known symbols of Italian style, a product that was and still is enormously successful, with over 16 million units sold to date.