The 2006 Moto Morini Motorcycle Range
Click on an image for large images and more information.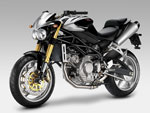 Today, "Moto Morini" is not just a trademark, it is an independent industrial project that has decided to reclaim its place amongst the great names of Italian motorcycle manufacturing tradition. This is why it has set up a new joint-stock company, officially presented in 2003. The Moto Morini SpA shareholders are the Berti and Morini families, two important names in Bolognese manufacturing history. The first launched the famous electrical appliance brand, Sinudyne in 1946 and the second are the direct descendants of Alfonso Morini and the shareholders of Franco Morini Motori, a company

that has been designing and building quality motorbike engines since 1954.

The 2004 version of the Moto Morini company is therefore a winning combination of mechanics and electronics, tradition and innovation, the DNA best suited to face the competition of today's market.

Company Philosophy;

The new Moto Morini company is founded on the desire, shared by many enthusiasts, to witness the comeback of one of the great names in Italian motorcycling.

The challenges are new and the technology is the latest, but the founding values are the same as they have always been, since Alfonso Morini established the company in 1937. Morini loved the bikes he built and he loved winning. Constantly in search of the best technical solutions, he surrounded himself with experts like himself. Moto Morini was a company where the workforce was united by superior know-how and a common love. And it still is today.

The new Moto Morini company gives room to individual talent in order to create motorbikes with character. And to give bike riders real excitement again.

Moto Morini is history, passion and design. It is a definition of motorcycling in itself. MotoMorini means "Moto di Essere" - Be How You Move.