The 2006 CCM Motorcycle Range
Click on an image for large images and more information.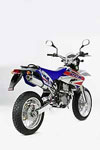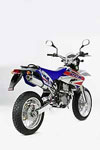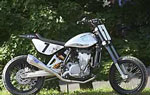 Passionate motorcyclists throughout the World, and especially those with a keen interest in Clews Competition Motorcycles, or as they are more commonly known, CCM - will be delighted to know that the company is now back in the hands of its original owner.
Maintaining its heritage as one of Britain's most important motorcycle manufacturers, the famous CCM brand continues to keep its place in two-wheel history some thirty-five years after it was first conceived. Back in the 1970's the Bolton based factory produced some of its most winning machinery. With the company headed by its founder Alan Clews, those original bikes enjoyed some of the biggest successes ever, both on and off the track, as results were matched by sales.
Some three decades later and the man that started it all is back in charge to create the next chapter of this great piece of British motorcycling history. Joined by his son, Austin, who himself has already played his own part in bringing CCM this far, and his son in law Gary Harthern, the family has been successful in buying the brand back after several months of negotiations. With a plan to reinstall the values that made CCM so great back then, the Clews family has brought the company right back to its roots.
Whilst nothing now exists of the original CCM factory at Jubilee Works in Bolton, the site is now home to a new industrial complex that is once again housing the manufacturing line of one Britain's few remaining dedicated motorcycle makers. This new facility is already up and running, continuing with the production of the current range of CCM models including the highly acclaimed supermoto version of the R30 as well as the excellent 644 and 404 series.
Speaking from CCM's new head quarters Alan Clews explained why he remains as passionate as ever about something he classes as family. " Building bikes is not just a business, it's a way of life, something that is with you twenty four hours a day, seven days a week. If you are only focused on profit, then this is not the business to be in. When I sold CCM I believed it was the right thing to do, as the new owners had access to the investment that I felt would help take CCM forward."
Clews continued. "Whilst the company did benefit in some ways, unfortunately it had its heart ripped out as the new management had no passion for what CCM stood for. Now it is back in our control we want to bring back the values that worked so well for us previously. We will be concentrating on quality rather than quantity, and we will once again be using our racing heritage to develop some new niche models that will bring back some great nostalgia, but with a modern twist."
With production back in full swing it is very much business as usual for the new owners of CCM, this is echoed by the spares department, which is now sending out an increasing number of consignments to a multitude of countries and the UK dealer network on a daily basis. Please visit the respective pages of our new official website, to learn more about this exciting new chapter in CCM's history - 'The Thunder Rolls On'.