The 2006 Buell Motorcycle Range
Click on an image for large images and more information.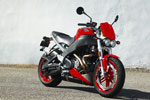 Erik Buell and The Trilogy of Technology
Isn't it strange that despite motorcycling being about individuality, independence and personal freedom, the market is dominated by faceless corporations producing characterless 'appliances' rather than motorcycles with attitude & soul?
One man has been dedicated to providing an antidote to the monotony. Erik Buell raced really fast bikes for a living because he was paid to. They weren't nice to ride and he felt this was because they'd lost sight of what made riding a motorcycle enjoyable.
The obsession with the pursuit of straight-line top speed had led to manufacturers failing to think about what bikers could enjoy & appreciate. Erik thought it was time to do something about it. Time to develop bikes for real fun on real roads for real people to use everyday. His mission was to build the best handling bikes on the road bar none. He reviewed the basic engineering principles utilised by the big corporations and realised they were doing it wrong. He tore up the rule book and sought a better way.
He developed his own revolutionary engineering approach. He calls it The Trilogy of Technology.
There are 3 fundamental principles which are not only radical but were developed with the sole intention of delivering his mission.: Mass Centralisation - the concentration of as much of the bikes weight at the heart of the machine & away from the ends to maximise responsiveness.
Chassis Rigidity - a totally flex free frame to ensure that no matter how hard the bike is thrown into a turn the wheels stay in line, to deliver precise rider control & predictable cornering every time.
Low unsprung weight - the minimisation & clever distribution of the weight not supported by the suspension to maximise grip, feel & flick ability. Revolutionary features arising from the trilogy of tech include fuel in the frame, oil in the rear swing arm, rim mounted front brake discs, the lightest road wheel in class by a massive margin and exhaust exiting just in front of the rear wheel.
The result of Erik's belief, technical brilliance and sheer determination is a range of bikes unlike any others on the road today. Bikes that stand out from the crowd because they stand for a racer & engineers belief in a better way to do things.
---
New Ulysses and Lightening Long, Llead Buell Line-up for 2006 - New Transmission and Stiffer Swingarm for all XB Models
Buell Motorcycle Company will extend the reach of its product line in 2006 with the introduction of two new models, the Ulysses XB12X adventure sportbike and the Lightning Long XB12Ss, a longer, more comfortable version of the original Lightning XB12S. In addition, all 2006 Buell XB Lightning and Firebolt models are enhanced with a new swingarm design, a new transmission and a redesigned intake system.
The 2006 Buell product line features five models: the Firebolt XB12R sportfighter; the Lightning family of streetfighters, including the Lightning CityX XB9SX, Lightning XB12S, the new Lightning Long XB12Ss; and the new Ulysses XB12X adventure sportbike. "I'm really excited about the 2006 Buell line, because we are taking our proven XB platform in some bold, new directions, creating motorcycles that will appeal to more riders," said Erik Buell, chairman and chief technical officer at Buell Motorcycle Company. "We also significantly improve our existing models. Call it evolution. At Buell, we will never stand still."
Buell Gets Dirty and Goes Long;
The new Ulysses XB12X is an adventure sport motorcycle with long-travel suspension and aggressive tyres designed to offer outstanding performance on and off road. With a dry weight of just 193 kg and the broad powerband of the 100 hp Buell Thunderstorm 1203 cc V-Twin engine, the Ulysses offers an outstanding power-to-weight ratio and sporting performance on the tight-and-twisty back roads that typically lead to dirt roads.
A wider frame and extended swingarm stretch the wheelbase of the new Lightning Long XB12Ss to 1360 mm, 40 mm longer than the Lightning XB12S, to give this model a more relaxed personality and a cockpit that's also ideal for taller riders. Fuel capacity of the Lightning Long is 16.7 litres. Handling remains quick and responsive, and the thrust of the Buell Thunderstorm 1203 cc V-Twin is undiminished.
Updates Enhance All 2006 XB Models;
All Buell XB models benefit from the following design changes in 2006: New Swingarm Designed to be significantly lighter and stiffer, the new XB swingarm weighs 6.75 kg, 0.25 kg less than the previous swingarm, a significant reduction in unsprung weight. The XB swingarm continues to double as the engine oil reservoir, and the oil-filler cap has a new easy-to-open design and is relocated for better access. The upper and lower belt guards and rear inner fenders have also been reshaped.
A New Transmission, Lighter Clutch, Stronger Belt A redesigned transmission for all Buell XB models offers reduced mass and improved shift quality, quieter operation and extended service intervals. This transmission replaces moving/sliding gears with thin steel "dog rings" that slide to cause gear changes, a design commonly used in automotive racing gear boxes. Because the dog rings have less mass than gears, shifting is quicker. New helical-cut gears are smoother and quieter than straight-cut gears. Oil change interval for the primary/transmission case is extended from 8,000 kilometres to 16,000 kilometres.
Clutch effort has been reduced by 15 percent (on 984cc powertrain) and 22 percent (on 1203cc powertrain) due to a lighter spring. Finally, a new Goodyear Hibrex final drive belt with Flexten Plus technology features 10 cords per 25.4 mm (compared to nine cords per 25.4 mm on the previous Buell belt) for enhanced durability. The new belt weighs just 0.48 kg, compared to drive chains that weigh 1.8 to 2.2 kg, a significant contribution to the Buell philosophy of minimising unsprung weight.
New Air Intake System;
The engine air intake is relocated and integrated with a wrap-around fuel cap cowling in the airbox cover, where air flows through an aluminum hex screen. The new intake system replaces the intake duct that previously passed through the left-side frame section. This results in an increased fuel capacity, as the frame doubles as the fuel tank. A new duct on the left side of the motorcycle below the frame delivers cool air to the rear cylinder.
New Tie-Down Connection;
All XB models feature new rear reflector brackets with an eye designed to act as a tiedown point for cargo. The passenger heel guard can also act as a tie-down point. Buell Motorcycle Company, a subsidiary of Harley-Davidson, Inc., produces sport motorcycles, motorcycle parts, accessories and apparel. To learn more about Buell motorcycles, visit your local Buell dealer today and experience the pure streetfighter attitude, style and performance only found on board a Buell.