The 2006 Bimota Motorcycle Range
Click on an image for large images and more information.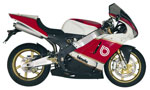 2004 is the 31st anniversary of Bimota's inception. Founded by three partners, Bimota has always been renowned as a manufacturer of extremely advanced and refined motorcycles, produced in limited editions and using components at the cutting edge of technology.
The company, based in Rimini, developed through its race program the knowledge needed to create a series of production models and succeeded in manufacturing motorcycle models able to stimulate emotions for the street rider that can only be experienced when a machine is developed with care and commitment to be the best it can be.
Bimota's aim today is to re-launch this historic brand, a brand that is still today a reference point for enthusiasts all over the world, and continue the tradition by creating refined and technologically advanced models with avant-garde designs.
Through an on-going research program and the utilisation of materials at the vanguard of technology, the company strongly believes it can continue to create the ultimate in motor cycling perfection.
The refinement epitomised by the machined frame in aircraft specification alloy.
The passion for the bike that stems from racing and carries through into the production of exclusive models made with an intense care for each and every component.
The Bimota traditions that reach back in time to the TT1 world title win of Virginio Ferrari's YB4 and were reinforced through a long series of successes in national and international championships, culminated in the birth in 2000 of the SB8K Superbike, a pure racing machine designed to create unparalleled riding emotions.